Sunday, November 29, 2020
Message from Jesus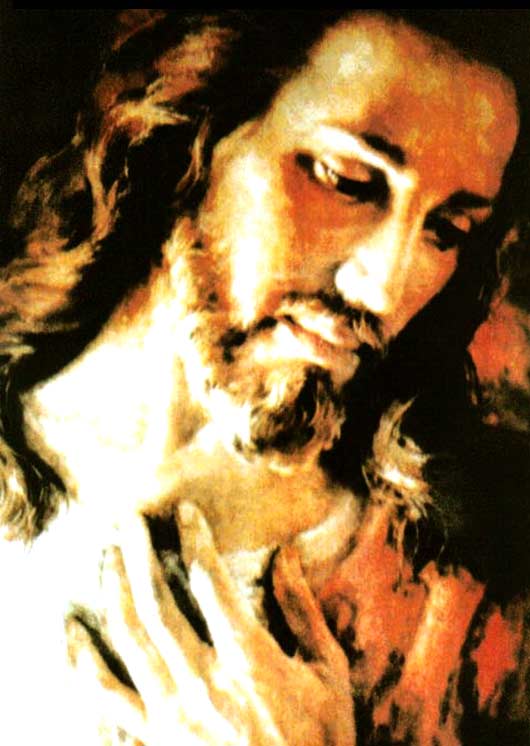 Hello my Jesus! I'm glad to be here with You. Thank You for Mass and Holy Communion this morning.
(Personal conversation omitted.)
Lord, please bless (name withheld) on her birthday, today. Give her special graces, Lord. Jesus, I pray for (name withheld) who has ALS. Please help him to draw even closer to You through this trial and affliction. Lord, I pray for (names withheld) and for all who are battling cancer. I also pray for (names withheld) and all who have dementia and Alzheimer's. Please bless and console them, Lord and if it be Your holy Will, heal them. Bless and protect all our priests, religious and bishops. Help them to remain faithful to their vocations and to Your Church. Jesus, I ask that You pour out Your Holy Spirit upon our country and the whole world so that we all may be converted and turn our hearts toward You. I pray for Your peace, Lord. Soothe hearts that are looking for and inciting war and violence. Foil every plan that is of the enemy. Confuse their thoughts and communication, Lord so they are unable to organize their mobs. Help people, Jesus to wake up and shed their indifference, their fears, their blindness so they can come to know the truth before it is too late. Lord, I trust in You. May all be according to Thy Word.
(Personal conversation omitted.) I want to be transformed by Your grace, Jesus. I want to walk ever more closely with You, so much so that I am in lockstep with You as much as humanly possible by Your grace. Enlarge my little heart, Jesus so that I have more capacity to love. Make my heart more like Your most holy Mother Mary's heart. I want my heart to be a vessel for her flame of love, Jesus. I think that is Your Will for all of Your children. If so, please do this work in me according to Your holy Will.
"My child, My child, how I love you. Thank you for your desire to grow in love and in holiness. I shall give you these graces and more in time, My little lamb. For now, continue to pray about these mysteries and meditate on them for it is My Will that you soar like an eagle. Ask St. John to pray for you regarding My desires for you. You are My child. We are walking together, I assure you. Be not afraid. I have given you a child-like faith, and it will grow even more steadfast in the coming days. It must be so, My little one so that you will be able to fulfill the plans I have for you. What I am asking of your family will require great love and you will need heroic love to care for all I send you. My daughter, you have not asked me about the other information My daughter (name withheld) told you. Have you forgotten?"
I suppose I forgot temporarily, Jesus but now that You asked, I do recall. I guess I wasn't really planning to bring this up either.
"My child, what she said to you is correct. Do not wonder why I would choose you and bestow these spiritual gifts upon you. I choose whom I choose,"
Yes, Lord. I know You choose those who are completely the opposite of our expectations. Sometimes I think You choose the least and even in my case, the worst. But, I trust in Your plan, Your Will and that You know what is best.
"Yes, My child. I know what is best and also who will need the gifts I bestow on My children. I bestow gifts that will be needed by those I send to them. There will be an outpouring of the gifts of My Holy Spirit upon My Children of Light, the remnant children who will carry the Faith on for future generations. You have a saying in these times, 'Desperate times call for desperate measures!' Though I am never desperate, the times you are living are full of sin and darkness and therefore do require an abundant number of graces, which I lovingly bestow on My children. There will be even more gifts poured out for My children. This is so in order that My Children of Light will be able to withstand the coming trials. My little lamb, I will work more miracles through My children than ever before. My child, My little one, many of My children will have the gift of miracles for glorifying Me and the power of My Holy Spirit and for practical purposes to meet the many needs My children will have. You have often felt there were other gifts waiting for Me to bestow, but you have not questioned because of your trust in Me. Now you know and have a glimpse of My plan for you so that when it occurs you will know your Jesus has prepared you. Over the following weeks, My child, I will prepare you in My school. We have little time, so I ask you to steep yourself in Scripture, My little lamb. I will show you what I want you to see that is deep in My Word. My Word is so simple and easy to read. Any child can understand, and yet I also speak as the Eternal Word of the Divine Mysteries. One could meditate for a lifetime on the Word of God and not fully grasp all that is there for My people. And yet, it is clear and simple enough for mere babes. Therein lies a mystery, My child and while it sounds like a contradiction, it is not."
Yes, Lord. I know that You never contradict. What seems to be a contradiction to man is not for God. Both are true, Lord. Little children can understand Scripture, because of the wisdom of pure hearts and simple faith. Yet, there are many layers of Scripture. Some of the prophetic books seem complicated, yet once something occurs in history it is easier to realize exactly what was meant. It is easy, for example for us to understand Isaiah's prophecies of the coming Messiah because You have already come to us, Your people in the Incarnation and at Your birth in Bethlehem. It must have been difficult for Your chosen people to understand the 'suffering servant' Isaiah spoke about prior to Your birth. They were not all expecting the Messiah to suffer and die and so I understand what You mean by layers of complexity. Jesus, we have such narrow minds and see things with filters based on our personal experience and limited knowledge.
"Yes, My child. This is what I mean by layers of complexity and yet small children understand the concept of loving so much that I suffered and died for My bride. The children understand more than many adults who have grown cynical, fearful and have many doubts. Oh, how I love the simple, pure hearts of children. Their purity delights Me. How I long for all of My children to become simple of heart, pure of heart, trusting completely in the Most Holy Trinity. The entire world could change with a few simple, pure hearts filled with heroic love. This is what I want from you, My little lamb. Are you willing?"
Yes, Jesus. How many times I have given You my 'yes' but it must be a very imperfect 'yes' for You to ask me so often.
"No, My child not imperfect. I want you to know how I respect the free will of My children and also it is good for you to renew your commitment to Me. You are always free to change your mind about each request. It delights Me to hear My children say 'yes' to Me especially in this Age of Disobedience. Do you see, My child? It is not that I doubt you, but that your 'yes' delights Me."
Oh, Jesus. Of course! I understand. It hadn't occurred to me, that is all. Ask Me as much as You want, Jesus but please give me graces to always respond 'yes' to You. I want to do whatever pleases You. It's better sometimes if You don't give me so many opportunities though because You know how much I doubt myself.
"Yes, My child. It is wise to sometimes doubt oneself, but this is where childlike faith comes in and you simply trust Me. All will be well. Let us continue in the lesson. When the times grow increasingly difficult and the trials even greater, My children who are busy about learning the ways of God will shine like beacons of light. The refuges I have established and continue to establish in these days, will be the rescue missions for souls. The holiness of My children who have given over their homes for refuges will shine brightly and will attract those in need. Your love will be like a balm for their broken hearts. In the care of My refuges, My children will learn from those who have given their holy 'yeses' to Me and those who come to you will also grow in holiness. I will send many, many souls to each refuge. Some more than others, but even the smallest refuge will have many more souls than can be imagined. I will enlarge each refuge to accommodate the number of souls I send and that I plan to send so there is enough room for all. I will provide. There will be plenty of food and supplies for each and every soul for I will multiply what is needed. Do not be concerned about how you will accomplish all I am asking of you, for you will have graces like never before. I will also send people who have gifts you do not possess, to help the refuges. Whatever you are lacking will be provided through the skills and talents of others. You will truly be a community of believers helping and serving one another. This is so because it is My Will. It must be so for your survival and the survival of the human race. My child, My child, the evil one wants to kill every one of My children. I will not allow this to occur. Many will die, but not all. My creation is My creation. My adversary and yours wants to crush all that I love since he cannot crush Me. However, he will not be able to do so. He cannot put an end to the human race. It is impossible for I do not Will it to end. I Will that many, many saints be made and come to Heaven in the allotted time."
"I am with you, My children. I will not abandon you. Even if it appears to be so, do not listen to the enemy of souls who wants to deceive you. Listen to Me. I whisper words of love to you from the cross. I whisper words of encouragement. I embrace you and call you by name. Bask in the radiance of My love. I love you! My little lamb, entrust your family members to Me. I will rescue the lost ones and bring them home to the fold. You have given yourself to Me. Your family has given their 'yes' and I will bless each member because of your family's mission. Entrust even your extended family to Me, even those who reject Me. There is nothing I won't do for souls and especially so for those who willingly sacrifice their futures for Me and My Will. My (name withheld) and My (name withheld) give Me your 'yes' each day when you pray as I have asked. This will be a renewal of your desire to do My Will. Do not worry about (details omitted). You have given it to Her and to St. Joseph and though you are experiencing many obstacles, all will be well. You have obstacles because of the way in which this sacred space will be used. This should be a source of encouragement. When doing the Will of God, the evil one rails against you. Remain at peace. Remember, even those who are responsible for this project are meeting resistance from the enemy. Begin anew and trust in Me. Ask for the intercession of the Holy Family (personal details omitted). My foster father will assist you and all will be well. Continue to be diligent and work to bring this to conclusion for time is short. Be at peace in the process. Remember, I have sent legions of angels to assist you in life. You have only to call upon them. This is all for now, My little one. Go in peace. Be mercy, be love, be joy, be light. All will be well. I am with you."
Amen, Lord Jesus. Alleluia! Thank You for Your love and for Your light. I love You, Jesus!
"And, I love you."