Friday, November 24, 2023
Be prudent and cunning so that you do not fall into the nets of the infernal enemy
Message of the Most Holy Virgin Mary to Luz de María on November 22, 2023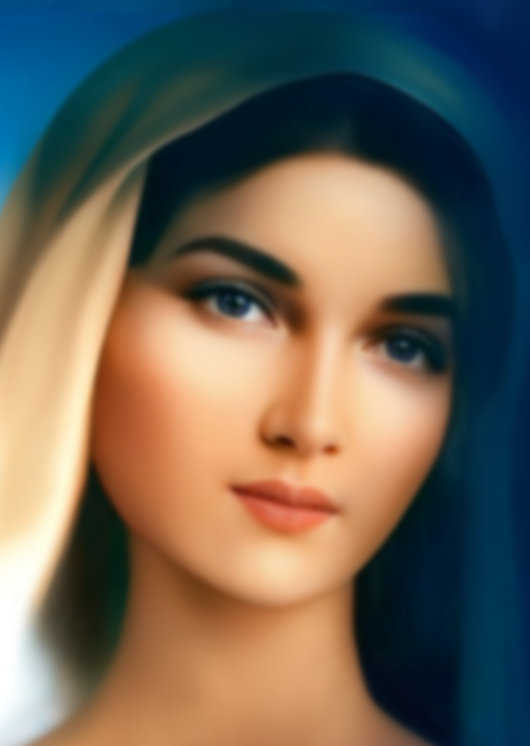 Beloved children of My Immaculate Heart, I bless you with My Motherly Love.
UNITE IN THE WORD OF HOLY SCRIPTURE AND IN THE FULFILLMENT OF THE COMMANDMENTS OF THE LAW OF GOD.
I call you to conversion so that you may resist the attacks of evil and with the help of the Holy Spirit discern first of all to act and act personally (Gal. 5, 16-25; Rom. 8,6).
THE HUMAN CREATURE MUST LIVE EVERY MOMENT IN UNITY WITH MY DIVINE SON, STRENGTHENING HIMSELF SPIRITUALLY.
My children, the battle at this time, more than in other times, is spiritual. The Devil is throwing poisoned darts at the children of My Divine Son to weaken them and this he will not succeed if you are spiritually strengthened. (Eph. 6:11-17)
TO THIS GENERATION AWAITS THE GREAT CHANGE, BUT BEFORE THE CHANGE IS THE GREAT TEST, THE GREAT PURIFICATION (2) THROUGH WHICH THIS GENERATION MUST PASS.
The elements are altered, they will not be the same as before: the Fire, the Earth, the Air and the Water have changed, they will not be the same as in the past, as will not be the climate on Earth. How many will migrate in search of better options to live in climates more compatible with what they are used to!
My children, you worry about the war at the moment when everything starts, then it is forgotten, asserting that everything is already fine and it is not so. You will witness the Third World War.
The purification of humanity brings with it:
great and serious earthquakes that have already been announced...
the famine that comes to establish itself in humanity...
and the new diseases that are found on Earth and spread rapidly becoming pandemics. Because of this, by Divine Will they possess the medicinal plants with which to deal with them. (1)
This is not something that happens from one moment to another, but is planned by the great elites who wish to stop the growth of humanity.
THIS MOMENT IS VERY DELICATE MY CHILDREN, SO DELICATE THAT THE ENEMY OF THE SOUL ATTACKS HEAD ON THE CHILDREN OF MY DIVINE SON WITH THE PURPOSE OF LEADING THEM TO FALL. Be prudent and cunning so that you do not fall into the nets of the infernal enemy.
Children, I invite you to pray and offer for Argentina, this land is besieged by evil that wishes to lead you on the path of convulsion, of intolerance and in the end, by the struggle of brethren against brethren. Have a stock of staple foods in your homes.
Children, I invite you to pray and offer for San Francisco, it shudders mightily mightily. I call you to turn your gaze toward My Divine Son. This land of so many cultures and which is on the sea, will suffer the fury of nature and the purification of the water.
Children, I invite you to pray and offer for California, what seems fantasy comes to cause destruction. At this time the sea has great interference over the land.
Children I invite you to pray and offer, the great volcanoes are awakening, some of them causing serious tragedies. Pray for Iceland, it is divided and a source of great pain.
Children I invite you to pray and offer for Chile, Peru and Ecuador, they are suffering from a strong earthquake, as well as part of Central America is shaken.
Children I invite you to pray and offer for Australia
Children:
YOU WILL WITNESS A GREAT SIGN THAT I WILL GIVE YOU IN MY INVOCATION OF EMPRESS OF THE AMERICAS, OUR LADY OF GUADALUPE, WHERE I PROTECT THE WHOLE EARTH AND THE STARS ILLUMINATE YOU.(2)
Children, have Sacramentals, without forgetting the Holy Rosary, holy water, but above all be clean of heart and seek peace with the Holy Trinity.
Pray the Holy Rosary every day and I promise to go in protection of each one of you if you find yourselves in a state of grace.
KEEP IN MIND THAT I AM YOUR MOTHER AND I AM WITH YOU. I CARRY YOU WITHIN MY IMMACULATE HEART.
Mama Mary
AVE MARIA MOST PURE, CONCEIVED WITHOUT SIN
AVE MARIA MOST PURE, CONCEIVED WITHOUT SIN
AVE MARIA MOST PURE, CONCEIVED WITHOUT SIN
(1) Plantas Medicinales, download...
(2) Prophecies about the Virgin of Guadalupe, read...
COMMENTARY BY LUZ DE MARIA
Brethren:
In the face of the events that Our Mother reiterates to us, the answer is prayer and finding peace with God. Confession is necessary to receive the Holy Eucharist.
Let the rags that have always been carried be thrown away, abandoned forever and with firm purpose of amendment. Let us walk in the footsteps of Our Lord Jesus Christ.
Above all faith, faith, faith and let us pray with our hearts for all mankind. We have prayer and fraternity to offer and we find ourselves before the Divine Mercy, to whom we pray to have mercy on us.
Brethren on repeated occasions Heaven has revealed to us His Word, let us heed what He has told us:
OUR LORD JESUS CHRIST
14.04.2010
Everything announced in the prophecies that My Mother has lovingly addressed to all mankind, everything that I have announced to you out of love for all of Mine, will be fulfilled "ipso facto". It is imminent, do not wait any longer. Prepare yourselves spiritually, convert yourselves; live united to My House, take My Mother's Hand so that She may lead you on the sure path. Do not fear, My House is with you to protect you; but everything, everything is upon mankind, so much so that the whole earth is shaking, everything. Because of this there will be pain, weeping and death. But be assured that I do not turn My Mercy away from those who cry out to Me. My Mercy is infinite, and at this time in a special way, it is being poured out upon all of Mine.
OUR LORD JESUS CHRIST
25.09.2017
My Mother, in the invocation of Guadalupe, is the Woman Clothed with the Sun, she is the Mother of these end times. She contains the balsam for the most critical moment of the purification of humanity. THE AYATE, WHERE MY MOTHER IS WILL BE A SIGNAL FOR HUMANITY, WITH A GREAT MANIFESTATION THAT MY PEOPLE DO NOT EXPECT AND WILL SURPRISE ALL HUMANITY. IT WILL BE VISIBLE TO ALL AND CORROBORATED BY SCIENCE.
THE MOST HOLY VIRGIN MARY
01.08.2015
Pray My children, for California and especially San Francisco will be strongly shaken. The water will cleanse the land of all the evil that man poured upon it.
THE MOST HOLY VIRGIN MARY
26.07.2015
My beloved, pray, San Francisco and the nearby coasts will be scourged by the shaking of the earth. By the shaking of the earth and by the sea, they will suffer greatly for this cause. Some who attack like lions will attack in those moments when this People suffers.
Amen.