Wednesday, September 27, 2023
Children, Share the Blessed Grapes with Those Who Do Not Possess the Means to Acquire Them
Message of the Most Holy Virgin Mary to Her Beloved Luz de María on September 25, 2023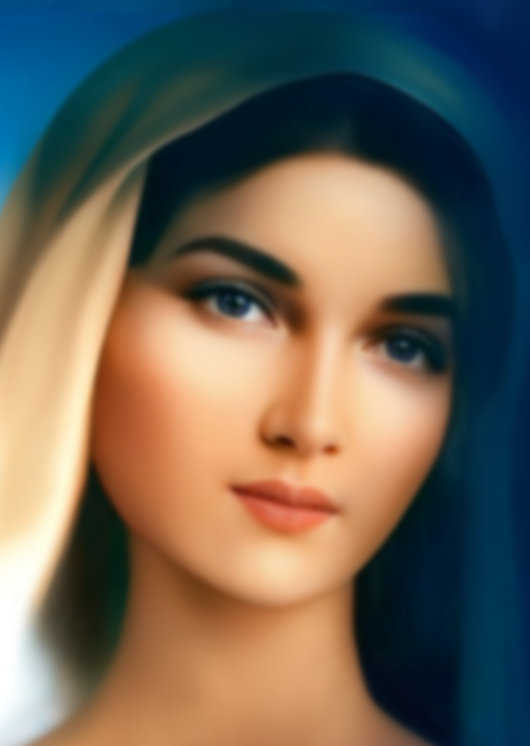 Beloved children of My Immaculate Heart,
I come to you to give you My love, to those who wish to receive it.
As the Mother of Humanity, I alert you to the fulfillment of the Revelations that My Divine Son has revealed to you and those that this Mother has revealed to you, as well as the revelations of My Beloved Saint Michael the Archangel.
I DESIRE THAT ALL MY CHILDREN "BE SAVED AND COME TO THE KNOWLEDGE OF THE TRUTH." (1 Tim. 2,4)
Mankind has entered into spiritual confusion (1), due to the fact that they move from place to place seeking to know more and more about what the Father House reveals to them. They seek so much, that they end up knowing nothing!
It is the decline of the souls who think they know everything and know nothing; they will be the ones who will suffer the most when they feel abandoned, even though I have not abandoned them.
CHILDREN OF MY HEART, THESE ARE THE LAST TIMES, NOT THE END OF THE WORLD; and although there are events yet to happen, the events are slowly unfolding, one and another, until the time comes when they will happen one after the other and this will be the great chaos of humanity.....
AH.... LITTLE CHILDREN, THERE IS A LACK OF FAITH IN YOU, A LACK OF FAITH!
YOU ARE APPROACHING TIMES WHEN YOU WILL SEE A SIGN IN THE SKY, IT IS NOT THE ONE BEFORE THE "GREAT WARNING" BUT A STRONG EVENT ON EARTH.
An event will occur that will leave human creatures in awe. A religious leader will die by unjust hands, unleashing worldwide astonishment.
Beloved children, as Mother I have My Heart bleeding for the offenses of this generation towards My Divine Son and for those that will soon come forth. I mourn for so much disregard for the gift of life.
I INTERCEDE FOR EACH ONE OF YOU; AT ALL TIMES I INTERCEDE BEFORE MY DIVINE SON FOR YOU ARE ALL MY CHILDREN.
Pray My children, pray for Austria, it will suffer for nature, especially for water.
Pray children, pray for Turkey little children, pray promptly.
Pray children, pray for Guatemala, its soil trembles and activates its volcanoes.
Pray children, Mexico is in danger, its soil trembles; Puebla suffers.
Pray children, pray for Costa Rica, it is shaken.
Pray children, pray for Argentina, chaos is coming.
Children of My Immaculate Heart, adore My Divine Son present in the Most Blessed Sacrament of the Altar.
Pray the Holy Rosary, intercede for your brethren.
The planned famine (2) is one of the scourges of this generation and of the strongest for My children. There will be millions who will suffer from this evil and will fall defeated, if they do not heed My call to prepare the "blessed grapes" and that these may serve as food for them.(3)
CHILDREN, SHARE THE BLESSED GRAPES WITH THOSE WHO DO NOT POSSESS THE MEANS TO ACQUIRE THEM. Share this blessing with several brethren, so that they will multiply to you; but do it now, before hunger and prices increase.
In countries where it is not easy to acquire grapes, you can have access to another fruit of similar consistency to this one and use the same preparation of grapes.
FAITH (4) IS ESSENTIAL IN EVERYTHING AND MORE SO IN THE USE OF THE MEDICINES THAT HEAVEN HAS RECOMMENDED TO YOU;
AND IN THE PREPARATION OF THE BLESSED GRAPES.
Increase your faith by keeping closer to My Divine Son; keep Him present every moment and deposit in Him the works of each day and the continuous acts, so that the constant dialogue with My Divine Son, may lead you to be of Him and not of the mundane.
Children, sins have gone beyond the limits....
Shame has been far from My children....
Envy is swarming everywhere causing evil....
My children need to love as My Son loves them; they need to be creatures of good and spread the good seed so that they bear good fruits.
Children, I see again how in the different continents some peoples are burning because of the fire, and the smoke spreads to other peoples making it seem that the fire has spread more than it really is.
Little by little everything returns to apparent normality and My children leave their homes, where they have had to stay, perceiving as they leave, that the air brings with it something that is not natural; and the sickness takes hold of My children for a few days. Although the commotion is experienced everywhere, My Son sends new winds, clean, with greater strength, so that what you have done may be driven away and you may breathe freely.
MY CHILDREN, PREPARE YOURSELVES SPIRITUALLY, I WILL NOT TIRE OF CALLING YOU TO SPIRITUAL CONVERSION.
I love you children.
I bless you.
I protect you.
Mama Mary.
AVE MARIA MOST PURE, CONCEIVED WITHOUT SIN
AVE MARIA MOST PURE, CONCEIVED WITHOUT SIN
AVE MARIA MOST PURE, CONCEIVED WITHOUT SIN
(1) The Great Confusion, read...
(2) Famine, read...
(4) Faith, read...
COMMENTARY BY LUZ DE MARIA
Brethren,
Concluded the message of Our Blessed Mother, She has manifested to me:
"Beloved daughter of Mine, I desire that you express what I have given you to feel during this urgent call to My children."
Our Blessed Mother has given me the grace to feel the urgency that as brethren in faith, we must pray.
She has mentioned to me that as children of God, we need to pray with tranquility, with patience and with love. Prayer is a spiritual feeling that makes us aware that the Holy Trinity and Our Blessed Mother receive prayers; and these prayers must be imbued with all our desire to intercede for the brethren and for ourselves.
Prayer is having the necessary time to be alone with God. For example, we can have several novenas but it is necessary to be aware that every prayer is received by the Holy Trinity; and we cannot address the HOLY in a hurried way, just to comply, because those prayers are not prayers but obligations.
To be free to pray, to have the time to pray, is to desire to be closer to the Holy Trinity and to Our Most Holy Mother. To entrust ourselves to the heavenly legions is an infinite blessing that we count on; and we cannot go through life without prayers bearing fruits of eternal life.
How much has mankind been spared through prayer?
At this time in which humanity is living, it is even more urgent to be aware that in order to pray we must enter our inner chamber, close the door and be alone with God. (Mt. 6:6)