Saturday, May 27, 2023
You Must Continue on the Way in Peace with Your Brethren, Carrying My Love Wherever You Travel
Message of Our Lord Jesus Christ to Luz de María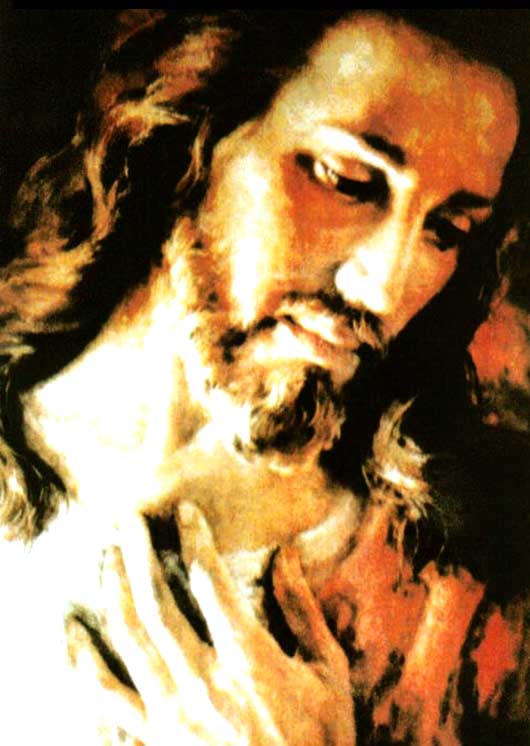 Beloved children, I bless you. Live in brotherhood as is My Will.
You must continue on the way in peace with your brethren, carrying My Love wherever you travel.
I INVITE YOU TO TRUE REPENTANCE AND TO CONFESS YOUR SINS SO THAT YOU MAY RECEIVE THE GRACE TO POSSESS A GREATER LOVE ON THIS VERY SPECIAL DAY: THE FEAST OF MY HOLY SPIRIT.
For you to overcome all that you live and all that comes, you need the fruit of love, that love which goes beyond the human, that love which My Holy Spirit pours upon My children in the face of calamities and so that they do not despair. The Love of My Holy Spirit will keep you without despair, firm and keeping faith in Me.
Constantly ask for the Gifts of My Holy Spirit in you, it is necessary for you to possess them and to be worthy of such great treasures.
Gift of Wisdom
Gift of Understanding
Gift of Counsel
Gift of Fortitude
Gift of Science
Gift of Piety
Gift of Fear of God
You must work and act in My Will, be fulfillers of My Law, lead a worthy life and live worthily.
From the Gifts of My Holy Spirit flow the fruits necessary for an upright life, fully aware that without Me, you are nothing.
These are:
LOVE: which leads you to charity, to live fully fraternity and the fulfillment of the First Commandment.
JOY: as joy of the soul confirms to you, above all, that next to Me there are no fears.
PEACE: is the result of the one who abandons himself in My Will and lives secure in My protection, in spite of earthly life.
PATIENCE: is possessed by the one who is disturbed neither by the adversities of life nor by temptations, but lives in total harmony with his neighbor.
LONGANIMITY: knowing how to wait for My Providence, even when everything seems impossible, brings you generosity.
BENIGNITY: the kind and gentle creature possesses it, maintaining gentleness towards others in his dealings.
KINDNESS: benefits the neighbor always, in My likeness, the surrender to the brethren is constantly present in the creature who possesses it.
GENTLENESS: keeps them equanimous, is a true restraint to anger and wrath, does not tolerate injustice, does not allow revenge or rancor.
FAITHFULNESS: bears witness to My presence in the creature who is faithful to Me to the end, living from My love, in truth.
MODESTY: as Temples of My Holy Spirit, live with dignity and decorum, giving that temple the necessary dignity so as not to grieve My Holy Spirit.
CONTINENCE: the creature possesses a high degree of conscience, possessing My Holy Spirit; therefore the creature maintains order in its acting and acting, not desiring what it does not possess, witnessing the inner order and controlling the cravings.
CHASTITY: as Temples of My Holy Spirit you maintain a true fusion with Me; for this you surrender yourselves to Me, thus weakening the disorders, not only of the flesh, but the interior disorder that leads you to disorder in your acting and acting.
BELOVED CHILDREN, BE TRUE WITNESSES OF MY HOLY SPIRIT, NOT HALF-HEARTEDLY, BUT COMPLETELY.
Pray beloved children, pray, the volcanoes (1) roar and lead My children to suffer, varying the climate throughout the earth.
Pray beloved children that the presence of My Holy Spirit, in fullness in My children, may be cause for evil not to penetrate mankind.
Pray My children, a strong sorrow passes over My Church...
Pray My children, pray for mankind's trust in Me.
MY HOLY SPIRIT REIGNS IN EACH OF MY CHILDREN; IT IS UP TO EACH ONE TO WELCOME IT AND TO WORK AND ACT RIGHT SO THAT IT REMAINS IN YOU.
Be on spiritual alert.
I bless you with My Love.
Your Jesus.
AVE MARIA MOST PURE, CONCEIVED WITHOUT SIN
AVE MARIA MOST PURE, CONCEIVED WITHOUT SIN
AVE MARIA MOST PURE, CONCEIVED WITHOUT SIN
COMMENTARY BY LUZ DE MARÍA
Brethren:
Before such great gifts and fruits that Our Lord Jesus Christ stresses to us, we must strive to attain them worthily. Without being content to look at them from afar, or as something unattainable, the disposition is extremely important.
Let us maintain the awareness of the need to be filled with the Holy Spirit in the unity of the Holy Trinity.
Sequence
Come Divine Spirit,
send Thy light from heaven,
loving Father of the poor;
gift in Thy gifts splendid;
light that penetrates souls;
source of the greatest consolation.
Come, sweet host of the soul,
rest from our toil,
respite from toil,
breeze in the hours of fire,
joy that wipes away tears
and comforts in mourning.
He enters to the depths of the soul,
divine light and enrich us.
Behold the emptiness of man
if Thou art lacking within him;
see the power of sin
when Thou sendest not Thy breath.
Thou waters the earth in drought,
Thou healest the sick heart,
Thou washes away stains,
Thou infuses warmth of life in ice,
Thou tames the untamed spirit,
Thou guides the one who twists the path.
Deal out Thy seven gifts
according to the faith of Thy servants.
for Thy goodness and Thy grace
give to effort its merit;
save him who seeks to be saved
and give us Thy everlasting joy.
Amen.