Thursday, May 28, 2020
The Antichrist is ready!
- Message No. 1248 -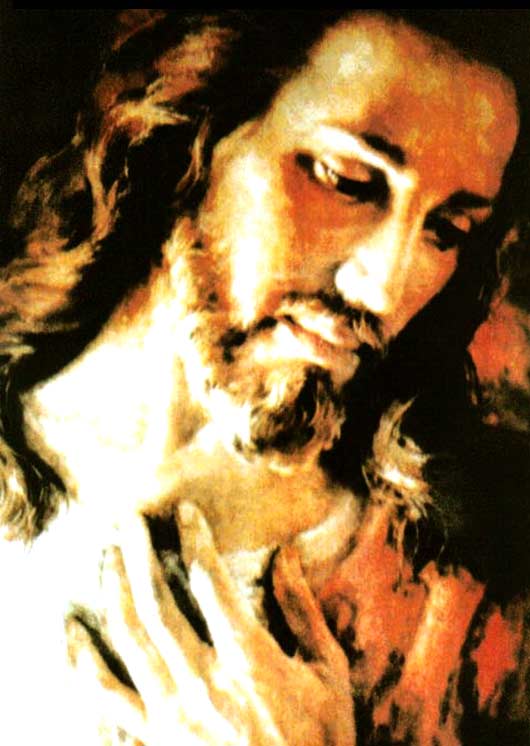 My child. Please tell the children the following: Wake up, beloved children that you are, for the days are numbered, and whoever does not wake up will perish in the mire of lies, of intrigues and of falsehood of those who conjure up your downfall and set everything on it, to separate you from Me, from your Jesus, and they spare nothing, not even My Holy Bride, the Church, which they disfigure and disgrace beyond recognition.
What, beloved children that you are, I ask you, are your Masses still worth if you do not believe in My Real Presence in the Holy Host? What, My beloved children that you are? I ask you, and look deep into your hearts before you answer!
Whoever does not believe in Me has gone astray and will perish! Whoever mocks Me and puts his will above the will of the Father will perish! He who follows those who keep him away from the truth will also perish!
You are walking on very thin ice, if you believe in My Holy Church and Mass TO CHANGE ANYTHING! You are not authorized to change MY Word, WHICH IS HOLY! You must show respect and honor Me and 'deal' with Me devoutly, i.e. whoever touches Me, His Holy Jesus, in the form of your Holy Host with plastic gloves, puts Me packed on shelves or sends Me, puts Me on plates as if I were a simple food or gives Me through the hands, be told: you are not worthy to receive Me and you (priests) are not worthy to give Me out! My consecrated priests inflict greatest sufferings on Me, IN THAT THEY DO NOT BELIEVE IN ME ANYMORE!
Children, wake up! Everything has already been said, but I say it again: wake up before it is too late for you! Wake up and look the truth in the eyes! The most evil game is already being played with you, and the planned atrocities are most cruel! You don't see it, you bury your head in the sand, you don't want to believe it, but the truth will catch up with you, but when that happens, it will already be too late for so many of you!
So wake up, look the truth in the face and DO SOMETHING! I, your Jesus, am with you!
None of My beloved children I will leave alone, but to those who think to be believers, but run after the 'stream of time', to you be told: The Antichrist is ready, and you will not be able to distinguish him from Me, if you continue to sleep and run after those who want your damnation.
Let it be said to you, beloved children that you are, whoever does not defend Me, his Jesus, does not love Me, does not believe in My Real Presence, desecrates Me, dishonors Me and profanes Me, let it be said to him: your sins weigh heavily on you, and they drag you to hell! There will be no awakening for you if you do not repent on the spot and pay homage to Me, your Jesus. Only I Am the way to eternal life, and the time you have left is short. The most terrible atrocities are already planned and are already taking place, mostly hidden. To change this, you must pray. You must repent and find Me, your Jesus. You must live according to the commandments of My Father and honor them! You ridicule everything that is true and holy, and that, My children, will be your doom.
I love you very much, but you do not have much time left.
So turn back and find Me, your Jesus. Through prayer it will be easier for you, through prayer you will come closer and closer to Me!
Seek the truth, beloved children that you are, and pray to the Holy Spirit for clarity and for preservation in faith, in devotion to Me, to your Jesus, and for preservation from going astray and confusion. Amen.
Your Jesus, who I Am. In eternity. With the Father, God Most High. Amen.