Sunday, January 16, 2022
Message from Jesus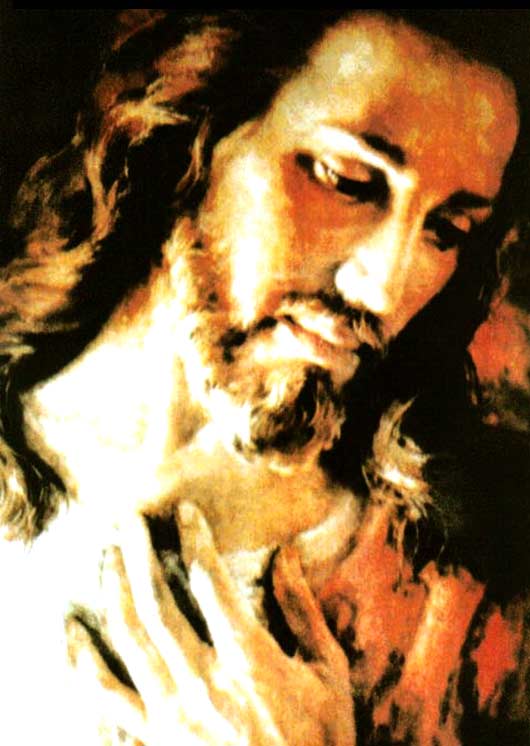 My dearest Jesus, present in all tabernacles in the world, I adore, praise, glorify and thank You, my Lord God and King! I love You and am grateful to be here with You today, in the Most Blessed Sacrament of Love. Lord, You know each intention and each friend and loved one for whom I pray. Please hear my prayers, Lord and grant peace and consolation in every situation; healing for those who are ill, consolation for those who are grieving, peace to those who are worried/concerned or who have bouts of anxiety, trust to those who fear, faith to those who are seeking You, the Truth and friendship and awareness of Your goodness, kindness and merciful love to those who are unfamiliar with the love of God and who do not know You.
Lord, You know each person's need that I have prayed to You about today, and many more that I do not. I bring each soul to You and present them to You on this small altar that holds You in the monstrance. Lord, I also beg Your forgiveness for my sins, each and every one I ever committed and pray the unintended consequences, those I know of and those I have no idea about will be bound by You at the foot of Your Holy Cross. Return graces instead, My sweet, merciful Jesus and blot out each transgression, as only You have the power to do. Lord, thank You for the Sacraments! Thank You for Holy Mass and Holy Communion and for the Sacrament of Confession. I praise and thank You for all that You did, for Your passion death and resurrection to leave us with these amazing and priceless gifts. Jesus, I was reflecting on Jacob & Essau and the time that Essau gave up his inheritance for a bowl of lentils. Oh, Lord how many times have I given up my inheritance, Heaven, for some stupid decision due to temptation or my human failings. Lord, it is easy to judge the frivolity of Essau, but only You know the number of times I have done something similar. Lord, we humans do not give enough thought to Your heavenly kingdom which is the pearl of great price. Give me the graces needed this day and every day to come to always put You first and to seek Your Will and Your Will alone for each and every day. Cover me with Your precious blood when I fall and help me to get up each time with even more desire to serve You and to love You more and more. Give me graces for heroic love so that I am willing to die for You if necessary but first so that I truly live for You. Lord, may Your light and Your grace fill every empty space in my heart and soul so that others will see You when they look at me. Lord, may my life be a witness to Your goodness, mercy and love. Jesus, I trust in You! What a great joy it is to be here with You today. Bless and heal my husband so that he can join me in adoring You, Lord. May Your Most Holy and Divine Will be done in our lives and may we both be completely united to Your adorable Will and Your Sacred, Merciful Heart. Jesus, have You anything to say to Me?
"Yes, My child. I have much to say. Please write."
Yes, Jesus!
"My child, thank you for your heartfelt prayers for your friends and family. Many, many souls are suffering in these times. I am the answer, My little one to the longing in each person's heart. No matter what the cause of their longing, My daughter, I am the answer. Many are lonely either from being alone after the death of a spouse or dear relative, or for reasons known to Me alone. Many are lonely, even though surrounded by family and friends because they feel an emptiness, or lack of purpose in life, or because they pursue worldly desires. In any case, My little lamb, I am the only remedy. I have the peace to give which passes all understanding. I am the balm for the soul. Many are wounded due to lack of love, violence (being the victim of or even the perpetrator), indifference or being misunderstood. I am the remedy. I am all love and all love is Me. My love is perfect. It forgives, repairs, restores, and brings life. My love brings forgiveness, healing and redemption. Many have great discouragement or have given up hope and become despondent. I am hope. I am the Light. I restore hope in souls. I restore confidence, and if one never has experienced confidence; I will give it anew. I am trustworthy, dependable and consistent in My love for My children. I am kind and merciful. My Sacred Heart is a refuge for all sinners as is My Most Holy Mother Mary's Immaculate Heart. Take refuge in our hearts, My children and you will have rest and solace in the storms of life. My children, you must make a decision for Me now while there is still the opportunity. The time remaining for this grows very short as you have experienced the time is 'flying' as you say and so I warn you. Heed My words, for you know not the day or the hour that your soul will stand before Me in judgement. I am merciful while you live out your days on earth, but I will assure you, the day is coming soon when the lines will be drawn. One is either for Me or against Me. I tell you this because of My deep love for souls. I want no one to be lost, My beloved children. No one. Not one. Do not be foolish and waste anymore time. Choose now, My little children. Choose life. To follow the evil one is to choose death. If you are living a life of sin, turn to Me. Repent of your sins and I will forgive you. Then, begin anew. I will remember your sins no more! For those of you who were baptized Catholics, run to the nearest priest and ask that he hear your Confession. You will be not only absolved of your sins, but you will receive the graces needed to continue on the path to holiness. Holy souls have great joy, My children. There is excitement in their lives as they look forward to the great plans I have for them. Do not fear holiness. Do not hold out on the graces I have for you out of fear that I will not forgive you. I forgive, My children. If it were not so, I would not have suffered a cruel death to free you from the yoke of sin. The reason I came into the world was to die for the sins of humanity because of My love for you. My Father and I decided this for you long before you were born, but we knew you would be born. We knew exactly the time in the history of the world since the creation and end when each soul would be born for the Father planned it. He planned each and every life, even those lives that man decided to kill through the evils of abortion, murder, euthanasia, tyranny, genocide, etc. These souls have been martyred in most cases and dwell with Me in Heaven. Their lives are still filled with meaning and purpose even if they did not take one breath outside of their mother's womb. You will understand this and many other mysteries one day when you are with Me in Heaven."
"My children, choose the Father's heavenly kingdom. Do not settle for the false trappings the evil one holds out to you. These are like cheap trinkets compared to the riches of Heaven. And, living for Me now will enable you to glimpse Heaven as I grant many graces and blessings to those who follow Me out of love. I patiently wait for your choice, My beloved little ones, but do not be presumptuous for the time is short now. Evil is in your midst. The evil elite, power hungry, cooperators of satan want to eliminate the population of the earth, My children. Only those who love and follow Me will be safe. My stubborn ones who put conversion off for the worldly trinkets I do not tell you this to instill fear in you. I tell you this because it is true. I tell you this out of love. Just as you who have children, teach them to look both ways before crossing a street, or to avoid touching a hot stove, I tell you this to bring you to safety. My children, I desire good for you. No, I desire the best for you. You desire short term gains that deceive you and make you 'feel good' for the moment, similar to Essau who was so hungry he chose a bowl of lentil porridge over his father, Abraham's extensive wealth. This was Essau's earthly inheritance. You do the same, but you willingly choose something even less than soup for an eternal inheritance. Listen, My children, heed My words. Now is the time to choose. You can no longer sit on the fence and feign indifference. The time for choosing sides has come. Are you for God the Father, Creator of life and Giver of all good things, or do you choose to follow the father of lies, the father of death, the one who wants you to suffer forever in hell? It is time, My poor children. You must choose. If you make no decision, even that is a choice for evil. Choose life. Choose love. Choose mercy. Choose Heaven and joy. It is your choice for you were made with the great gift of free will. Our Father in Heaven has blessed every human being with free will and so you are free to choose, but choose you must. Do not delay, My little poor children."
"For those who have already decided to follow Me, graces and mercy are yours. I will pour out graces in these days upon all of My beloved Children of Light, those who love and follow Me. You will have all that you need. I will provide for you. I will be your refuge. As long as you follow Me, not one of you will perish. Have no fear, the circumstances around are like stormy waves that crash against the shores, but your refuge is in the Rock. I am your fortress and the waves will be like small drops of water to you. You will hear the clap of thunder; you will see the waves and feel the strong winds but your house, built on the Rock will stand and you and your family will be protected. If one loses his life in the storm (one who loves and follows Me) you will come to Heaven and will be blessed as the martyrs for the faith. These days are filled with evil and every difficulty and those who continue to walk in faith, following your Jesus have no need to fear. My Children of Light countless numbers of you will live to see the Renewal of the Earth and the Era of Peace. You will be very wise and your wisdom will pass from generation to generation for you will have lived in the Time of the Great Saints, the greatest of saints and you will be filled with graces and wisdom. My children, do not fear these times foretold in Scripture. Rejoice that My Father destined you for these times. Cling to the cross and to the resurrection. Meditate on the joyful, luminous, sorrowful and glorious mysteries. Meditate, My children on the Sorrows of My Mother who suffered much, even though She was completely filled with grace, for Her love of Me. Follow Her example of perfect love, service and holiness. Be like My Mother and allow Her to teach you. She always brings My children even closer to Me. She is a perfect teacher and will school Her children in holiness. Consecrate yourselves to Me through My Precious Mother. Do this now, My Children of Light and if you have already done so, renew the consecration. Pray as I have asked you, My children. It is vital that you do so, for the time of darkness is upon you. The prayer of the holy Rosary, meditating on the events of My life and the life of My holy Mother Mary, the Divine Mercy Chaplet and Holy Mass will carry you through the most difficult of times, My beloved friends. Compel yourselves and establish this prayer routine, morning and evening for the protection of your souls, your family and your homes. You must listen to Me, My children. The evil one and his minions prowl the earth seeking souls to devour. He cannot harm your souls when you entrust them to Me. Praying these prayers from Heaven itself also marks you as Mine. This is your great protection and it will be like a blessed covering over you. I am merciful and I am all knowing. Many of you have experienced illness and great suffering. There are times you have been unable to pray or could not pray as I have asked. I understand My beloved. However, as soon as you are able, resume. I urge you to return to the prayer practices and frequenting the Sacraments as soon as you are able. I will help you. Ask and I will give you the way, My children. You have only to ask and to desire."
"My little lamb, I am with you and My son (name withheld). I know of your struggles, your suffering and all that concerns you. Trust in Me. It will be as I have said. Do not fear. Trust in Me. Be an example to others by your life and your trust. Be confident that I am directing you even when you cannot see the path I lead you to take. It is not important for you to see. It is only important that you hold onto Me and follow where I lead, for I know the way and I can see clearly what lies ahead and all that is around you as you walk. I see every person who will try to pull you from the path, every stone that would cause you to trip and every dangerous snare and trap. All you need to see is your Jesus, your Guide and your Savior. Walk confidently forward with your eyes fixed on Me. I will carry you at times when the way is too treacherous for you, My little ones. Rely on Me. I will never let you down or disappoint you. If you think I have done so, think about the blessings that come as a result and you will realize you chose the best path when you decided to follow Me. You must have faith, My children. Your faith and trust is growing stronger with each and every difficulty and each answered prayer. This is the way I build trust in My followers. This faith and trust of yours is tested in small ways and then in large ways. It must be so in order for your faith to be strong. All of My holy children are building this trust and faith so that the perilous storms to come will not be too rough for you. Others will look to My holy ones for an example and for reassurance. If you are weak, you will not be a witness to others and so I am building this strength in you. It will be understood, My children when the time comes. Reflect on this and be aware of My Will active in your lives and in the lives of your family members. I am preparing you, My little ones. Be assured that I guide you just as I have over your entire lives. It is much more clear in retrospect, I realize and one day you will see these days more clearly, also. My little lamb, I bless you in My Father's name, in My name and in the name of My Holy Spirit. Thank You for choosing to be with Me today. My child, you made the better choice. My son, (name withheld) I love you and I thank you for agreeing to suffer for me. It will only be for a little while longer. Be brave for your Jesus. I am with you.
Amen! Alleluia! Viva Cristo Rey!