Sunday, January 9, 2022
Adoration Chapel, The Baptism of the Lord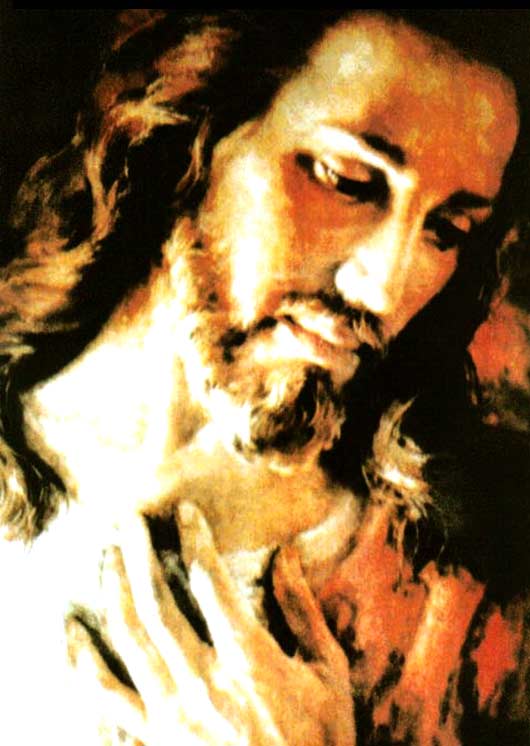 Hello my Jesus! It is so very good to be here with You, my Lord. I adore You, my Lord, God and King! It's been too long, Jesus and it is like returning home from a lengthy trip being in this chapel again. Thank You for bringing me through such trying times. Please help (name withheld) Heal him, Lord. Thank You for his life and for bringing him this far! Lord, there were so many blessings and gifts during the trial, that You sent to us. Your love shined through in spite of the bleak, lonely, darkness. Just when we began to feel all alone (even though we knew we weren't), You sent a gift, a dear friend our way. Lord, thank You for (name withheld) gift when we had no Christmas decorations. Thank You for our neighbors (names withheld) who made organic/homemade chicken and noodles. I couldn't believe how much they tasted like Grandma's homemade noodles. It was very touching. Even though I lost my taste and smell You allowed me to taste that dish. I could feel Your love and my Grandma's prayers. So incredibly thoughtful of You. Thank You for this sweet couple! Thank You for the meal and visit from (names withheld). They are like angels always helping others and showing their love. Thank You for (names withheld) and the meal they made for us and for (name withheld) who picked up medication for us on a day he was working. Thank You for the (name withheld) who helped with (name withheld) while (name withheld) was working. Lord, You had everything planned and You really did take care of everything; even my job! People have been very understanding. Lord, most especially, I thank You for giving us a beautiful gift (AGAIN!) on Christmas day. (private conversation omitted) Oh, Lord when You did that for us, I knew You wanted us to live and this really saved our lives. Lord, there is no way to thank You or them adequately. Please bless and protect each and everyone and return even more blessings to them for being so Christ-like for us. Lord, this is my day of gratitude to You and all of Heaven for interceding for us! Praise and thank You, Lord.
Jesus, the isolation associated with this bio-engineered weapon is so very dark. It is not good for mankind to be alone when You made us for community. Jesus, help us to impact others the way we were impacted by their love. Give us the insight and the direction when others are in need. You know what each person needs, Lord.
Jesus, I pray for all who are ill, especially for those who have requested our prayers. I am thinking of each person, Lord and place them in Your arms. Care for each one, Jesus in the way only You can. Jesus, I place all my trust in You.
"My daughter, I was with you and I am still with you. Nearer to you than you can understand. I am also with My son (name withheld). I am doing a great work in him as I also did in you. I allowed this illness time for your good, My child. It is taking longer for (name withheld) to recover but it will occur. My little one, there are many reasons for this, some of which (name withheld) is beginning to understand. I will enlighten you about these, also so that you will remember when future more difficult trials come. Remember when you could hardly speak, but you both prayed the Rosary anyway? Remember always how you quoted scripture and refused to stop praising Me in the midst of your suffering? My child, this opened the door for many graces. My little lamb, you cannot begin to understand at this time how beautiful your praises were to all of Heaven. Your fighting spirit and your zeal for Me turned you into a warrior for God. You were a suffering servant turned lioness of God in that moment. My child it was a triumphant moment."
Lord, I could sense that and an urging from our amazing patron saints to continue, but I also know there were many times I have complained, especially when I've been so tired, Jesus. But being tired is no excuse. I can only reflect on Your passion and death for one moment and then I am ashamed at my complaining, especially about such trivial matters, when You gave every drop of blood for us. Please forgive my thoughtless and careless comments, Jesus which You never opened Your mouth to utter one complaint! You suffered more than all of mankind put together and You are God! You are pure, holy and innocent and yet You took the yoke of every soul's sins upon You to save us! Lord, help me to overcome my many faults and please forgive my sins. Thank You for Holy Communion today and Holy Mass! It was wonderful having (name withheld) there even though he really struggled. Help him soon, Jesus. He is suffering so.
"My child, I am and I will. Trust in Me. He will be well and his soul will be even better for (because of) this time of trial. No suffering is wasted on Earth when offered to Me. (name withheld) has frequently offered to suffer for souls and I am allowing him to do so. He has been made weak for a time so that I can be made strong within him. Do you understand, My little one?"
Yes, Lord. I understand when You explain it and much more so than mere words can express. Thank You for the insight You give me, Lord. I can't begin to write everything You reveal to me, but when You speak, You often give me more than just words. Your word is like that, Lord. You are the Eternal Word. Praise You and thank You!
"You are welcome, My child. I love you and I know of your desire to grow in your love for Me. I realize trials are difficult but when one accepts them as you and (name withheld) have, I can make much progress in your souls. This is the reason I have allowed many of My beloved children to suffer. It is for the good of other souls and for the good of their own souls."
Yes, Lord. Your Will is perfect in every way. I trust You, Lord. Help me to trust You more and more.
"My child, your trust in Me has grown through this trial, has it not?"
Yes, I believe so, Jesus.
"Yes, My child. I say so."
Then, it is so!
Lord, there have been some recent prophecies about our country and Israel. I want to believe them, Jesus but I do not know if they are true. Lord, our people have been harmed by the evil one and his plan to destroy humanity. We have allowed violence to be done against innocent babies and children who have been taken from their parents, abused and some killed by evil people who cooperate with the father of death. Lord, what we used to be able to take with good faith has shown and revealed to be untrustworthy. As You have informed me, there is no institution or major organization in the world that hasn't become corrupt. I now see very clearly how these times are worse than the times of Noah. Jesus, just last week, someone said in a business meeting they are openly living a life of sin. Oh, Jesus I prayed for that soul right away. Lord, he doesn't know what he is doing and he probably believes it is fine. Lord, he is so involved in the movement to spread diversity and inclusion that it is clear to me he has been deeply wounded. Oh, Lord please heal him of his wounds. Help him, Lord to understand that this does not make what he is doing acceptable in Your sight. Show me how You want me to help him. If I am a witness to someone's pain, even his public pronouncement, show me and direct me in what You want me to do in response to this. Lord, You know what his souls suffers from and what he needs. Send him every grace needed to break free from this oppressive life of sin. Oh, Lord our culture is so upside down. People are hurting and in need of Your love and mercy. They look for something, anything to stop the pain and forget to look up to the heavens and cry to You for help. I will cry to You for them, Jesus. I will trust You on their behalf. Oh, good Jesus heal these wounds, free this soul from sin so that he can live his life freely for You with a beautiful pure soul. Help him, Jesus. I lay him at Your feet just as those people of faith did when they brought the man who was paralyzed to You by lowering him through the roof. I do this now spiritually for my colleague and I beg Your mercy to be upon him. Jesus, I trust in You. Jesus, I trust in You. Jesus, my Lord, Savior, Redeemer and friend, I trust in You.
"My child, My child it will be as you request. By your faith, I will heal him. In time, though My child. You will need to believe Me. Do you really trust Me?"
Oh, yes Lord. (I can feel Jesus smile at me.) It will be done. Thank you for your love for others. My little lamb. When you request things for others with such love in your heart, you appear like a small child, begging her Daddy for something she knows he will give her because she trusts him to will her good. You are the little child walking in the tides of the ocean, on the beach holding her Jesus' hand. Do you recall this vision?"
Yes, My Jesus. You know that I do. It is such a fond memory for me and I experience it anew each time You remind me. This was a very beautiful gift and I will always cherish it. Lord, how can anyone not love You? You are adorable and precious! You are the consummate gentleman and yet, You are our God! Your mercy is endless and Your love melts My heart. How can anyone turn away from such a loving beautiful God!
"My little lamb, they do not know Me. If they truly knew Me they would run to My open arms. Those who do know Me and reject Me have listened to the lies of the adversary of My children. Your pastor spoke correctly of this today in his homily when he said the evil one and his followers (angels that became demons) are enemies of humanity. They hate humans, My child because they learned of God's plan to take on humanity, the Incarnation and they refused to worship Me knowing I would do this. They were so proud of their own gifts and beauty. How could I stoop so low as to become one of you to die for your sins? After all, they were 'perfect creatures'. Since they cannot defeat God, they make war on My children who are made in My image and likeness. My daughter, this is why the final assault on My children is through changing the DNA of My people. They no longer want what I created to bear the mark of your true identity—Children of God. The evil one wants to mark people with his image and erase the image of God. Do you see, My little one?"
Yes, Jesus. This is so clear to me and I think I have had glimpses of this over the past two years. My sisters, niece and son, too, have talked about this but You confirmed it and made me understand more fully. Wow, Lord! It sounds so clear when You explain it. It is very ugly and sinister, though. Lord, what will happen to those who consented to this unknowingly?
"My child, do not believe others when they say there is no way to reverse this. It may be true that man cannot, but I am God. I am merciful. I can heal and I can protect My children, but I say once again, do not cooperate with this evil agenda to commit spiritual and physical genocide. Resist this evil plan. My children, you do not belong to satan. You were not created to have fear, but to have trust in God. Do not fear what can cause illness, but trust in Me. I can bring you through any illness and if I choose not to, because I prefer you in Heaven with Me, rejoice! My children, you are destined for Heaven. You were created for Heaven, so why worry about what may harm your body? Be concerned about what can harm your eternal soul. These injections were made to harm both your body and your soul. I AM God and I AM the Creator. These people are mere creatures and they are following satan, the father of lies. I AM truth. I AM love. I AM all powerful and this is a last desperate attempt in the long thought out plan of the devil Lucifer to destroy My children. He will not prevail. He will not be able to fulfill his plans for your demise. I will always protect My One True Apostolic Church, My child and the gates of hell will not prevail against My Church. You, My Children of Light are the Church. I will protect you. Come to Me and take refuge in My Sacred Heart that is all love for you. Come to My Mother who will crush the head of the serpent. She will shelter you within Her mantle and accept all who ask to hide in Her Immaculate Heart. My Spirit will be poured out upon you, My children and you will receive graces never before given at one time to so many. Believe in Me, My children. You will see wonders and signs from the one who is the great imposter. Do not believe in him for he comes to rule the world and the powers of this world. That is how you will know he is the antichrist. Recall when I came, I was a poor baby, born in a cave to the most humble and holy parents, Mary and Joseph. There was not even one room available for our shelter, but God provided an austere, simple cave for the Son of the Most High. The imposter will seek all power, wealth and force people to praise him. I never force but respect your God-given free will. My child for those who know Me it will be very clear that he is the imposter. For those who do not know Me and do not want for anything other than worldly riches, they will be lead astray. My children will not be able to fathom this, it will be so obvious. This is because of your faith in Me. I make the innocent wise. I will raise you up with many graces to withstand what is to come and I will send exactly the right people to you (those who have refuges) to help in every way needed. Since only I know what each refuge will need on account of the little ones I send you in their great need, you must trust Me that it will be so. My children focus on Me. Keep your eyes on Me. I am the one who has already given My very life for you and I prove My love each day. There is nothing else for you but the opposite of love, peace, joy and Heaven if you choose to follow evil. Choose life, My people and you will have life to the full. Amen. I say to you not one hair from your head falls that I do not know about, My children. Do not fear. Trust in Me. I love you and I will walk with you on this pilgrimage. Be of good cheer. All will be well. Reflect on this and think about what these words mean. 'All will be well!'"
"This is all for this evening, My little one. Thank you for writing My words and this important message. My children have been waiting for these words and it is good that you said 'yes' to your Jesus. Go now in peace. I bless you and My son (name withheld) in a special way today. You have suffered much. Your family members have suffered much. Let them know of My deep love and appreciation for them and all they have suffered. It has not gone unnoticed. Your relatives in Heaven have prayed and are praying for you. Continue to be My witnesses and be a force for love in this world so in need of love. I bless you all, those who were ill in your family, those who served others who were ill and you My (name withheld) and My (name withheld) in the name of My Father, in My name, Jesus and in the name of My Holy Spirit. (He, Jesus, made the sign of the cross over my head and over a large area.) Go in My peace. Be love, mercy, peace and joy to others no matter what the circumstances you face. This is the most effective witness, My children as the light is a stark contrast to the darkness. I love you. I am with you."
Amen! Alleluia. Jesus reigns!