Sunday, February 21, 2021
Adoration Chapel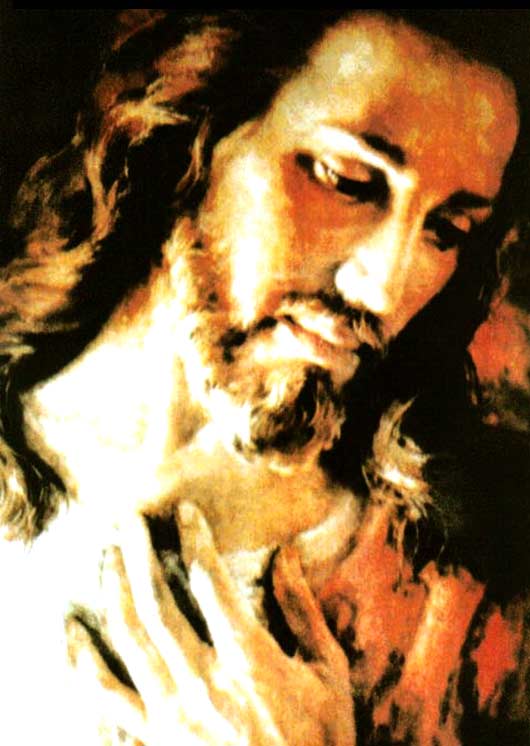 Hello, my beautiful Lord present in the most Blessed Sacrament of the Altar. I adore You, believe in You and hope in You, my God Creator of the world. Thank You for Holy Mass and Holy Communion. Thank You for enabling us to go to Confession yesterday. Please bless and protect Your holy priest sons who make it possible for us to receive the Sacraments. Lord, I bring to You all who are ill and all people who will die today and tonight, especially those who are unprepared for their deaths. Give them consoling graces and draw them close to Your Sacred Heart where they can encounter Your infinite love, mercy and peace. Please give (name withheld) healing graces. Comfort and console her and also her family. Be with her husband (name withheld) who suffers because of his concern for her. He loves her so very much, Jesus, and already feels lost at the thought of 'losing' her. I pray for those who are outside of the Church, especially for (names withheld). Please, Lord may (names withheld) receive the Sacrament of Baptism. Save us all, Lord Jesus by Your Most Precious Blood shed so generously for us during Your passion and death. Jesus, as if it wasn't enough, Your blood was shed even after Your death when the soldier pierced Your side and Your most Sacred Heart with a lance. Oh, blood and water which gushed forth from the Heart of Jesus, have mercy on us and on the whole world. Oh, Lord how much misery so many of Your people suffer because they do not know, do not love You.
Lord, may there soon be an outpouring of Your Holy Spirit on the world during the Illumination of Conscience. Please do this soon, Lord according to Your Holy Will. May Our Lady's Immaculate Heart triumph and may we always be loyal to You and to Your blessed most holy Mother. Oh, God You are magnificent, majestic, noble, glorious, holy and pure, unattainable, untouchable due to Your glory and yet You condescended to become one of us. You took on flesh and through the fiat of Mary Most Holy came into the world, full of sin and darkness to save us. Oh Light; Oh Messiah, Oh Savior, my Lord and my God, my brother and friend, how can it be true that You left the glories of Heaven to become a baby, the Son of Man, to teach, heal, suffer, die and rise again just for love of us, poor children, wretched sinners. You elevated mankind, though we are sinners. You give us everything if we only follow You. You who walked ahead, blazing the path for us, eliminating the weeds, the vines that ensnare, the thorns that pierce us. You cleared the way so we could follow You more easily. You left a map for us so that generations to come would know the way, also. Since You ascended to Heaven, You sent the Holy Spirit to guide us and to guide the Church. Lord, Your love was so perfect, so holy, so beautiful that You couldn't bear to leave Your bride, so You gave the Apostles and their successors the gift of Your presence in the Eucharist and each time they celebrate the Holy Mass, You give Yourself again to us, Your people. Who can ever fathom this deep love of Yours, Lord, especially knowing how undeserving we are. Thank You for Your love, Jesus. Thank You for Your sacrifice.
"Thank you, My little one for your prayers and your love. Thank you for being here today, My children. Thank you for the encounters with others when you bring My love and My peace."
Lord, I'm afraid I wasn't very good about that this week. There were several times of struggle for me as You know.
"Yes, My child. I am aware. You did the right thing by bringing these trials to Me. I gave you My peace each time, My daughter."
Yes, Lord. I was aware of that and I am grateful to You. Thank You for helping to put things in perspective, Lord.
"You are welcome, My child. I am always available to you and to all of My Children of Light. I am also available to My children who do not follow Me, and I stand at the ready, so I can embrace them when they repent and turn to Me. Come to Me, My sad children. Return to the God Who created you, Who loves you, Who will never deceive you. Come to Me and know true forgiveness and peace. I am the living water. Come you who thirst for love and for life. Come to Me. My child, My child I continue to invite and to call because of My great love for souls. I want no one to perish and all to have life everlasting. I long for My people to be surrounded by My love but I do not force. I only call and invite."
Yes, Lord because You are the consummate gentleman. You are all good and deserving of all our love.
"My little lamb, many people are weary of waiting. Weary of the evil and weary of being surrounded by deception and evil motives, of corruption and sin. My children, I know you are weary, but you must not grow complacent. I urge you to renew your prayers, your penance, your sacrifices. I urge you to renew your faith, hope and trust in the Lord God. I will breathe My flame of love on you and enkindle the fire of My Holy Spirit in your hearts so that the small, red embers will grow into a blazing fire. Ask Me for this, My Children of Light. Ask for the power and love of the Holy Spirit to renew your strength, your zeal for the Lord. You have not because you ask not."
"I urge you to envision a camp where soldiers are sleeping. Their sleep is very deep for they have walked 100's of miles and have fought many years of battles. They are war torn and weary. Notice though, that as the night wears on their enemies come closer and closer. There are thousands of them. They are fresh and well rested. They are powerful, but very quiet as they begin to surround the sleeping soldiers. But, not all are asleep. The commander is on his watch and he has several good men with him also keeping watch. They notice the enemy when they are at a distance and knowing they are outnumbered, they have assembled around their sleeping soldiers. The commander sent a few of his men off to solicit reinforcements. The commander is wise and a well-seasoned soldier. He is a strategist but above all of his skills, talents and expertise he has something even greater, a true and sincere love for his men who are like his family. He would give his life in an instant if it meant saving his men. He allows the extra time of sleep for his men, knowing how weary they are and yet he keeps watch and is aware of how much time will be needed. He sends some of his men to awaken his soldiers and they quietly take up their arms and prepare for battle. He instructs them to pray like never before for God's protection, the protection of nearby villages and peoples and for the Lord to secure their needed reinforcements."
"As dawn approaches, the men realize they are outnumbered but the commander reassures them the reinforcements will be coming and to fight as if they outnumber their enemies. Soon the battle begins. The men fight valiantly and with precision they follow and carry out every order the commander gives them because not only are they well trained, they also trust him with their lives because they love him and know that he also loves them. He is their inspiration and though they believe in the cause for which they fight, love of country, love of family and friends, freedom/liberty, and to guard and protect against tyranny, for the moment these values are not at the top of their minds. Their thoughts are on staying the course, protecting each other and showing their commander and friend their loyalty, courage and love. This gives them heroic courage, clear minds, pure hearts, and crystal-clear focus. They continue to fight no matter that their enemy is pressing down on them. They fight with hope and confidence because they believe the words of their commander. They believe in him."
"After hours of fighting, reinforcements come and they are even more encouraged and relieved but still the sheer number of enemy soldiers far outnumbers them. At some point, their perseverance and tenacity begins to turn the tide and they regain ground and begin pressing their enemies hard. They fight with so much courage and heart that the enemy begins to retreat. As some run away, more and more follow. The fear in their minds becomes so intense that the entire number flee. There are many who are wounded. The good soldiers take account of their wounded and begin ministering to them. They tend to their wounds. These soldiers have mercy on their adversaries who are wounded also and begin to treat them as well. One wounded adversary speaks of the great number of soldiers who descended upon them from the sky. He goes on and on about these amazing soldiers who appeared out of nowhere. Finally, the commander acknowledges this is true and he informs his soldiers they must thank God for sending His angels. The Lord heard their pleas, their prayers and the prayers of all who were praying for their loved ones who had been fighting in the war. The reinforcements came just when needed because the Lord sent them an angel to awaken the leader of the reinforcements and he had his men preparing to depart just as the messengers (soldiers) met them. God's timing is perfect. The soldiers did not give up hope, though they were clearly outnumbered. They prayed, they trusted and they acted. They followed their commander and they trusted in him and in the Lord."
"My children, this is what you must do. Pray, trust and act in accordance with the Gospel. When one is wounded among you, care for them. Care for your enemies, also for they are sons and daughters of God, your Father. Your battle is with evil, but not with your brothers and sisters. It is with the evil adversary who seeks to kill and destroy souls. I will send angels to help you and to defend you when needed. The saints in Heaven pray for you. Your loved ones pray for you. My Most Holy Mother, Mary intercedes for you before the throne of God. She sends graces from Me to Her children in need of them."
"For your part, you must awaken when your Lord tells you it is time to rise and pray for the enemy is surrounding you. You must not lose sight of the Gospel and you must seek fortitude in the Sacraments and the Word of God, even in the midst of the battle that is raging, or you will be too weak and the enemy will overcome. My children, you know what to do. You know what I ask of you. Trust Me. Listen to Me. Follow through with your part so the enemy will be defeated even sooner. Yes, you are weary, but I will refresh you. You are in the midst of the battle so you cannot afford to let down your guard but press on in your prayers and in your good works. Love those around you. Care for your brothers and sisters. Be wise, but also meek. Humble yourselves before the Lord God Almighty. I love you and I am with you. I am leading the charge and I already won the war but you must continue to fight for the good of souls. You are united to Me and I want no souls to be left out of the Kingdom of God."
"Some will choose to live apart from Heaven, sadly it is true. There will be casualties, My Children of Light but much is riding on you and on your prayers. Be love, be mercy, be peace, be light, be love, My Children of Light and soon the darkness will be dispelled. Live your life for Me and I will live in and through you. I am with you. I will not abandon you. The battle is difficult, but all things worth living and dying for are often challenging. I give you all that is needed to defeat the adversary, the father of deception. Take up your weapons, the prayer of the Rosary, Divine Mercy Chaplet, partake in the Eucharist, the Sacrament of Reconciliation. Feast on Scripture and the Most Holy Eucharist. Be in My Mother's army of little, holy souls. You will see Her triumph, My children. Do not lose hope. All will be well. Follow Me, My children. Minister to your brothers and sisters in need. One day, you will live in the New Springtime, the Era of Peace. You will tell the stories of this time to your children and grandchildren. You will tell of the wonders the Lord worked in and through you. This time of peace will come. Pray, pray, pray."
"That is all, My daughter. I bless you in My Father's name, in My name and in the name of My Holy Spirit. Go in peace, My little one. All will be well."
Thank You, Lord! Praise You, Lord. I love You.
"And I love you."