Sunday, February 14, 2021
Adoration Chapel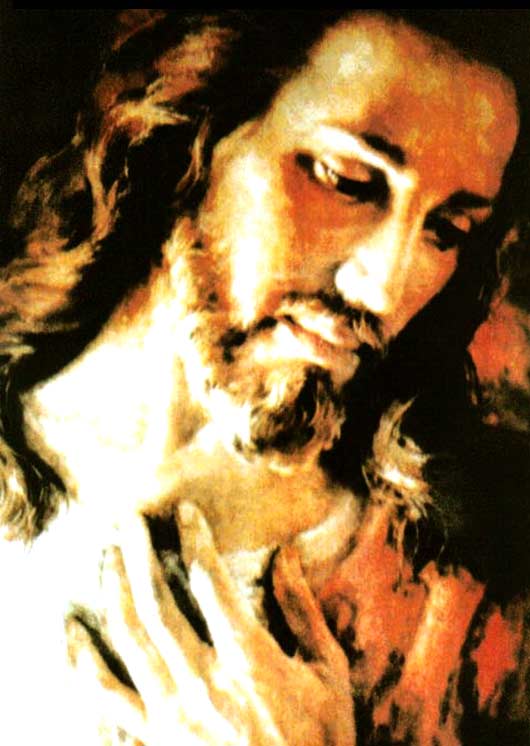 Hello my beautiful Jesus hidden in the most Blessed Sacrament of the Altar. I love You, adore and glorify You my God and my King. Thank You for Holy Mass and Holy Communion, Lord. Thank You for my family and my husband. Lord, You know every intention in my heart but I pray especially for (name withheld) who is suffering. Jesus, if it is Your Will, please heal her. Draw her close to Your Sacred Heart, Lord and if You desire to heal her in Heaven, help her suffering to prepare her to enter into Your Kingdom. I know You can heal her now, if You Will it, Jesus and I ask You for this. Just as You healed the blind man as we read in today's Gospel reading. You can heal (name withheld). Your Will is perfect and I trust You with (name withheld). You know what is best for her, Lord. Jesus, please be with (name withheld). He asked for prayer and though I don't know what he needs, You know Jesus. Give him the graces needed to fulfill his priestly vocation and minister to Your people. Help him in any way he needs assistance. I pray for my children and grandchildren that all will be baptized and grow closer to You than ever. May our entire family, all my relatives and (name withheld) too be faithful disciples of You. Help us during our pilgrimage on earth, so that we will one day enter Your Heavenly Kingdom.
"My child, I am pleased that you are here with Me. You are My voice, My little one. I speak to My lost children through you. Yes, I know that you are imperfect, but you are a loyal friend. You and My son (name withheld) are faithful to Me. Write My words, My (name withheld) and do not grow weary with being My secretary. I love you and I thank you and all of My Children of Light for the time spent with Me, adoring Me in the Eucharist. No one will come to Me in Adoration and leave empty handed. My child, I give many graces to all who adore Me in the Sacrament of Love. You call Me your hidden Jesus, and it does appear to your eyes that I am hidden. I assure you that I am here in the flesh, body, blood, soul and divinity and that I see you as if we were visiting and having a lovely conversation in your home. However, I say this not meaning 'as if' in the true sense of the word 'if' but in that it is the same as being with a friend in person. I am truly present in the consecrated bread and so I am truly present with you in Adoration."
Thank You, Lord for reassuring us of this and for reminding me of the great honor it is for Your children to have access to Our Lord God. It is amazing to think about this, Jesus. In worldly terms one would have to be wealthy, famous, or have an important connection in order to gain an audience with royalty. You, though make Yourself available and accessible to all people. It doesn't matter if we are poor, wealthy, outcast, ill, sinful or holy, all are welcome to have an 'audience' with the King of Kings and Lord of Lords in Adoration. Oh, Lord, how great is Your love for mankind!
"Yes, My child, I do so love My children. Even when I am rejected, My love remains. I await even the hardest of hearts and the biggest sinner the same. To the hardest of hearts, I await with the greatest measure of patience, ready to forgive sins and embrace the one with the heart of stone. I will hold this one so close to My Most Sacred Heart that the heart of stone will transform into a warm, vibrant heart of flesh. The love from My heart purifies, transforms, forgives, loves and shows infinite mercy to the most horrible sinner. Come to Me, My lost, prideful children. Humble yourself and come to Me! You are not happy in your lifestyle of sin. You have lost all peace and joy. You no longer remember the purpose for your life. I created you for more, My lost ones. I created you for love, for life, to fulfill the important reason for living and loving. I made you for Heaven. You do not feel deserving of this great purpose, I know. You are in good company, for none of My children feel deserving of Heaven. Even saints who attained high levels of holiness did not feel deserving of Heaven. This is missing the point, My children. Heaven was created for My children and for the angels, who also dwell there. All was created out of love. You were created to know, love and serve Me but I also serve you, My children. Read Sacred Scripture. Read the Gospels. I showed you how to live, to love, to sacrifice for others. I served during My time on earth and I continue to serve you, My children. I listen to each and every prayer and when it is best for you. I answer your prayers in the way you request. When there is a better way for you, I answer your prayers in the way I know will be best for your soul. I have the vantage point of all eternity. Your vantage point is your short and in most cases very brief lives on earth. I listen to every request, every sigh, each joyful laugh and I know each and every need. Bring your burdens to Me My children. Share your hardships, the things that tire you, the things that concern you. Talk to Me as you would a trusted friend. Allow Me to be this for you. I love you and I enjoy your company. Lift your minds and hearts to Me in prayer throughout the day and even in the night when you awaken. I am always present to you. Be aware each day of how I am working through you and through others. Pray, My children that each meeting with others will be an encounter with Me. I am actively engaged in your lives, dearest children. I am not a distant, far off, out of touch God. I am actively engaged in My children's lives. Invite Me to be in your lives, My lost ones and together we will rebuild whatever has been damaged or lost. Do not think this impossible. I can do all things, My children."
"I call out to the one who is hurting and far from Me. You are afraid to approach Me in prayer because you think your sins are too horrible for me to forgive. Do not believe this lie from the evil one. He does not want your soul to find Me. He delights when souls fall into hell. The worst sinner in the world is no problem for Me, your Savior. I died for souls such as yours and My mercy is especially for you. Run to Me, you who are mired in sin. You must hurry. Flee to Me right away without hesitation. Tell Me your sins. Tell Me about your pain and the pain others caused you and that which you caused others. There is nothing hidden from God. I know these things anyway, but there is healing and forgiveness when you confide them to Me. I will not reject you. Instead I will welcome you with open arms. Do not be afraid of the One who loves you. My lost ones, after we have this moment of forgiveness, go find a Catholic priest and confess so that through him, I will give you complete absolution. In this way, you will know without any doubt that I have absolved you of your sins. If you are not Catholic, you may still talk to the priest and ask him how to receive instructions in the Faith. I want all of My children to have the great benefits given through the Sacraments in the Church. (The One Holy Catholic Apostolic Church) Yes, I know the Church has people within that are not holy. I know this, My children better than you. This is not My Will, but people sin; even those who know better and who have Holy Orders. Do not allow this to stop you. Are not you a sinner, too? My Church is pure and holy even though those in the Church are not. This is a fact. There is no institution or organization on the earth that is filled with saints. Only Heaven is filled with saints, all saints; Earth, not so. This should ease your mind, knowing that My priest sons are sinners also. Therefore, do not be ashamed to tell them each and every sin. Give them all to Me, My children. The words of absolution, are My words. I work through him in a mystical, sacramental way. So, when you are in Confession, telling your sins to the priest, you are actually telling Me. Yes, I am not bound by My Sacraments, and I can forgive you outside of a confessional, this is true. But you, My children doubt. You wonder if I have forgiven you. You wonder if you were truly sorry, so much so that you have no attachments or desires of these sins. Since one may not know, or has doubt, I gave the Church the Sacrament of Reconciliation. When the priest says the words of absolution, you are forgiven. All that is needed is sorrow for sin and a sincere willingness to reject these sins and commit them no more. (A desire to never commit them again.) My children on earth, you have what is needed for your pilgrimage to Heaven. All has been given through My Church. I stopped at nothing to make this so. I love you. Come to Me, My children. Allow Me to give you new life."
Thank You, Lord. You are love and all love is You. You are mercy, peace, joy and life everlasting. Thank You for loving us even when we sin. Help us to get up each time we fall. Thank You for Your forgiveness. Thank You for the Sacraments. Praise You, Lord! I know You are sad because some people will not believe in You, Lord. Heal them. Help their unbelief. Give them graces for faith, hope and love. Give them graces for healing, Lord. Heal their wounded hearts. Give them the gift of discernment so they will detect Your voice and reject the voices of evil. Make Yourself known to them, Lord. No one who knows You can refuse Your love, Lord. You are so beautiful, so very tender and loving. Your mercy is a sweet balm to the broken hearted. You fill the empty places, Lord.
"Thank you for your love, My little one. Thank you for your friendship. This is all for today, My little lamb. Pray for your brothers and sisters who do not know Me. Pray for them to come to know God. Pray for lost souls, My Children of Light. Bring My love to those in need."
"I bless you in the name of My Father, in My name and in the name of My Holy Spirit. Go in My peace and in My love."
Amen, Lord. Alleluia. Praise You, my Lord, my God and my All.