Sunday, January 10, 2021
Feast of the Baptism of the Lord/Holy Family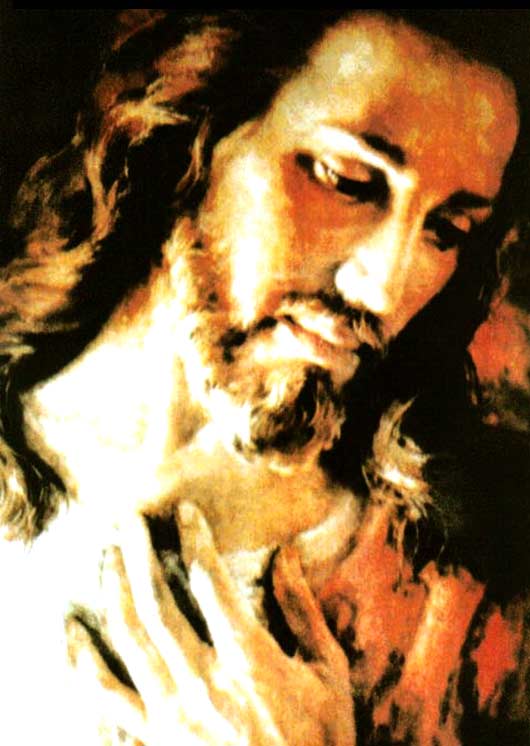 Hello, my dearest Jesus ever present in all tabernacles of the world, present in the Most Blessed Sacrament of the Altar. I adore You, my Lord and my God. I love You, my Redeemer and King of All Nations. Thank You for Your great love and mercy! Thank You for Holy Mass and Communion, Lord. Thank You that my family was with me at Mass (minus one). Bring all people back to their home in the One Holy Catholic Apostolic Church.
Lord, my heart is very heavy today and I feel restless and burdened. Mass provided me with Your peace, Lord and I find Your peace here in Adoration as well. Lord, I know that there is a great struggle underway (has been for years). It appears to be coming to the peak, at least for this phase. Jesus, You are our King. You are God, Lord of Heaven and earth. You, Lord are in control. You are the Prince of Peace and Lord of Lords. I know You have already won the victory for us, but we also understand from Your words in Scripture that the gates of hell will not prevail against the Church. Lord, Your Church is about to go underground and become very small as we enter into a persecution. You have already been purging Your Church from evil and this process will continue, however we need good shepherds. So, I plead with You to protect our shepherds, Your good and holy/faithful priest sons whom You love dearly. You love all of Your children, Lord even when we fall and disappoint You. Redeem those who have betrayed you, Lord with graces for conversion. We pray they will repent and return to You. Jesus, we mustn't be left without shepherds who will give us the Sacraments. Please protect our priests and the religious brothers and sisters who have dedicated their lives to serving You. Protect our families, Jesus in the coming trials. Lord, at this time in history, please work miracles to save our country from the evil ones who plot and plan against freedom. Protect and defend President Trump, Lord. Things are very dark but You are the Light. You are our King, our Savior, our Redeemer. Lord, I know that I am asking You to protect our country and that may seem a small perspective since we are only a small percentage of the world. However, if You do not have mercy on us and decide to work a miracle in this time of the largest coup in recent history, the entire world will be impacted and will be under communism influence. Our Lady warned us at Fatima the errors of communism would spread throughout the world if the people did not repent and if the Holy Father did not consecrate Russia to Your Immaculate Heart. Apparently, all is coming to fruition, but I am begging You to spare us, Oh Lord. With the evil plans to overthrow our elections, comes a party that worships the lord of abortion, murder, theft, stealing, lies, larceny and a host of abhorrent evils against children.
Jesus, we need You to put evil to flight. Save us, Savior of the world. I know You are most concerned for our souls, Lord but You also care for the physical needs of Your flock as well as their emotional needs. Lord, we pray that You will hear and answer our cries. We cry for peace, for mercy, for righteousness and truth. Cast evil into the abyss, Lord. Grant us peace in our day. Protect the President and his family who have received countless death threats. Relieve his stress, Lord. Give him the wisdom of Your Holy Spirit. Give him clarity and knowledge of the right, Godly steps to take. Work through him, Lord. Save us, Lord. Spare us communism, please, my Jesus.
"My child, My child, write the words I m speaking now. Things will grow worse, the days even darker before it gets better. I am exposing evil, the likes of which most people were unaware existed in this nation. I invite all peoples to conversion now before it is too late for souls. Many lives will be lost in the next year. Repent and believe in the Gospel, My children. You do not know the day, nor the hour when I shall call for you, so be wise and prepare your souls now. Live each day as if it were your last, from a spiritual perspective, to keep your priorities in order. Some of you are living this way now and it is very pleasing to all of Heaven. This suffering will not be wasted when offered for souls in need. My children, many of you are praying. I hear your prayers. More prayers are needed and you must persevere in prayer for this is how I guide and protect you. Do not give up because of your disappointment, for that shows a weak faith in God. It is not the time to give in to fatigue and weariness of heart when one is preparing to enter into the most important battle in history, besides the one I faced in the Garden of Gethsemane. Now is the time to fortify yourselves. One holy prayer warrior can transform many people. Several holy prayer warriors can transform an entire town and so forth and so on. Do not give in to spiritual fatigue. Ask My Mother to come to your assistance. Ask the Holy Spirit to renew your zeal. Yes, have zeal for souls and for the Body of Christ, My Church. My children, the way before you looks bleak. Yes, this is true because you focus on your feet as you walk. Look up and fix your eyes on Me, the Light, the Love, the Truth. Keep your eyes on Me and I will lead you. The world has always been under the dominion of the evil one, since the fall of your first parents. I came into the world to redeem man and I still work in your hearts and in your lives to redeem others through your evangelization and sharing of the Gospel. I am not a God who sits and watches from afar. I am engaged and involved in human affairs. I see all that is. I know all. I am present everywhere. I am the Creator. I am the one and only God."
"Do not think for one moment, oh evil men who persecute and kill My children, that I do not see what you do in darkness. I see! You will not go unpunished. Time on the earth is brief and is snuffed out with one breath from the Holy Spirit, but the life afterwards will last forever and your punishment, the hell that you choose will never end. Therefore, repent and believe in Me so that I will forgive your sins and you can enter into the Kingdom of My Father. Choose life, all you evildoers. Death will be binding. Binding upon your choice. Choose Heaven. Choose life. Sadly, many if not most of you evildoers will not repent for you worship the father of lies, the father of destruction. Even as you walk to your own destruction, you delight in killing those who are most pure. You disgust Me, children of satan. If you do not repent soon there will be no time for you."
"My child, My child, I am sorry you are bearing this heavy message, but it must be said. Some souls will hear. Some souls will pray with more urgency for these lost and wayward ones. They (the wayward ones who choose evil) harm many, many children. They maim and destroy them, then offer these victim souls to me inadvertently while they offer their blood to My adversary and yours. These souls are taken immediately to Heaven where all suffering and pain is no more. They receive eternal salvation and a place reserved for martyrs of the Faith for these little ones have lost their lives in the battle of the end times. Open your eyes, My slothful children who bury your heads in the sand. Do you not realize you are all accountable for these innocent pre-born souls and the lives of My little ones who are in the slavery markets? Yes, those who endorse and approve of the pedophiles and one world globalist, worshippers of communism are also culpable. You give your approval to abortion and sins against children who cry out to Me for justice. Those of you who say you believe in Me but approve of and vote for evil, you are also accountable. Repent and convert now, My lost children. The way will be difficult for you, but you must open your eyes now before it is too late. You will be horrified later when you realize what you have done and your rationalizations will seem foolish to you then. Repent now, My children. Listen deep within your hearts where I call to you in love. You do not really believe it is alright to murder the innocent in the womb. No rational human being really believes this is fine. You excuse it because you have wounded your children also. You excuse it because you have helped others get abortions. You excuse it and even speak out to protect this holocaust of major proportions to cover your sins and to rationalize your own actions. This is complete dishonesty. Repent, for I will forgive you. Do not persist in this lie. For this crime alone, I judge the nations. For this crime, (abortion) I will purify the world, purging it of evil. Not to mention the sins heaped upon sin, women with women, men with men, sins against My creation. Male and female, I created them. There are only men and women, not 56 varieties, My blind children. How can you possibly think I created such distortion? I am God. I created a beautiful world and My most beautiful creation? Man and woman. The evil one attacks all that is good and beautiful. Do you not see this? No, many of you do not because sin blinds. The wages of sin—death. The father of lies, kills souls, souls destined for Heaven. I will prevail. My Mother's heart will triumph. Do you really think the way you live, grasping for power, prestige, money, your willingness to stop at nothing for your false place in this world, isn't noticed by God? I see all. I see everything. You cannot hide from Me, and all pretending may fool many on earth, but you do not fool God Almighty. Repent, I say repent. Repent and believe."
"My little lamb, what you are praying for, your deepest concerns are heard and I am blessing your entire family, all family members (relatives). All who seek Me will find Me and I will rescue the souls of the unbelievers before it is too late for I have heard the prayers of your family members and I see their faith in Me. Those who are lost will be found. Praise the Lord for His mercy endures forever. Be confident in this, My child. I will go the distance for My faithful children."
Thank You, Lord. This is an amazing blessing. (There are several family members who are not united with us because they do not believe or are away from the Church.) Praise You, Lord now and forever!
"My child, if more people would pray with open, loving hearts, more would be saved. Now, you all must turn your prayers to Me for those who have no one to pray for them. This will be a great act of faith. Tell your entire family this. Do not be afraid to share it. They are already praying for souls but there are many lost souls who have no one on earth to pray for them."
Yes, Lord. I will tell them. Lord, will You please protect our country? If not, our entire country, Lord will you please protect our liberty and those who believe in and follow You?
"I will protect My children, My little one. I will protect and provide. Still, some will be and are being martyred. This is their choice, My child. They willingly die at the hands of evil ones, offering themselves as living sacrifices. This is not My Will for them, however I allow their free will. They receive incredible graces at the moment before their deaths to choose Christ and to witness to the faith. Their courage, heroism and faith even convert some of their murderers. My ways are not your ways, children of God, and yet you do understand that they follow in the footsteps of their Lord and Savior. Do not cry, My little one. It is difficult, I know. I understand and yet this is the current Calvary for the Church. My child, My little one I will rain graces upon My faithful ones. I will work miracles in your midst, I will provide beyond your wildest imaginings. You cannot fully realize what this will be like for you, but this will become your reality soon. I must do so, or all would perish. Be of good cheer. Do not become desperate, for I am with you. I will guide you at the proper time. Trust in Me and remain in a state of prayer. My child, each of your actions may be a prayer. Do all things with love and in love. It does not seem so now, but I assure you all will be well. Live in the present moment so that I can give you all that you need right now and in every 'now'. My child, My child you have all that is needed and you know what to do. Put things in order now and prepare for those I will send you. It is not immediately but it is soon. All will be well. Let us begin."
"I bless you in the name of My Father, in My name and in the name of My Holy Spirit. Go in peace. Go in love. Be mercy, be peace, and be joy. Yes, be joy. Have the joy of the Lord in your hearts, no matter the conditions of the world for you are in the world but are not of the world. Focus on Me. Eyes on Me, My child. Be aware of all that is around you, but do not despair. I will bring about the Renewal. My Mother's Immaculate Heart will triumph. Lean on Me, My Mother, St. Joseph and all the saints I have given you. Your entire family has many angels assigned to you (all of you) now, even the youngest. I am pleased with the faith of your family. Do not fear. Be support and encouragement to and for one another. I assure you all will be well. Again, I say, let us begin."
Amen, Lord. Alleluia!