Sunday, January 19, 2020
Adoration Chapel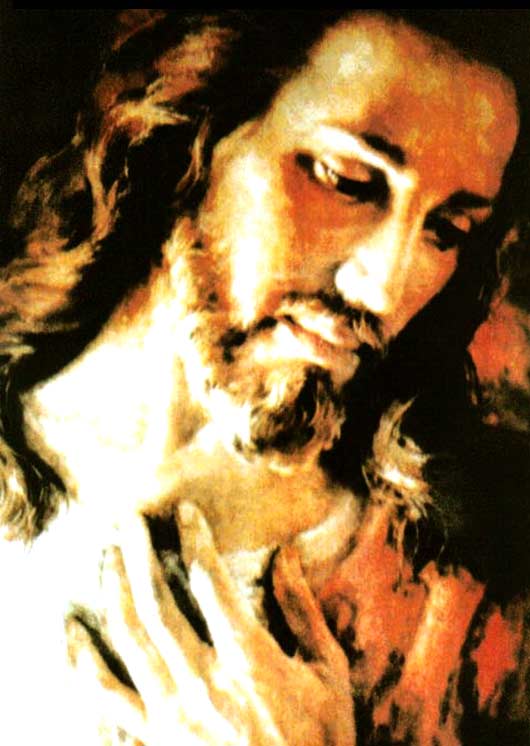 Hello dearest Jesus present in the Most Blessed Sacrament. All praise, honor, glory and thanksgiving to You, my Lord, God and King! Thank You for the opportunity to visit with You today. I am grateful, Lord. I was thinking earlier how difficult it will be when we aren't able to adore You in this chapel. Lord, give us graces when the time comes when we will not be allowed to worship You publicly. I pray that You will hold back that time, Lord. I don't see how it will be possible to live without this time with You, but trust You to make it possible by Your grace. I shudder to think of this, Jesus. In some ways it seems surreal. Yet, I know how fragile our freedoms are in these days. God, all things are possible with You and I trust You to make a way when there doesn't seem to be one. For now, I relish this time, the present time and I am so thankful to be with You in this chapel.
Jesus, I pray for those who are very ill, physically, spiritually, emotionally or mentally. Draw near to them, my Jesus. Hold them close to Your Sacred Heart. Give them faith in You when they doubt. Calm their fears and console them, my Jesus. Someone is in great darkness, now Lord and doesn't have the desire to live. Someone doesn't know or believe that You are the Savior, the Messiah. Infuse their souls with graces for faith, hope and trust. Oh, what valuable gifts, these graces are, Lord! Give poor souls, who lack these, theological virtues. Lord, these come from You and so I beg You to give them because of Your infinite mercy and benevolence to give them in generous measure, especially to those who do not believe but so desperately need You. Please, Jesus. Souls are depending on Your grace to live, even though they do not realize this. Once they have You, Lord, they will know and they will rejoice in the knowledge of You, the One True God. Lord, bless and protect all our family and our friends. Don't allow anyone to perish, Jesus outside of Your friendship.
Thank You for the beautiful priest who came to our parish this weekend. Keep him safe from all harm, Lord. His mission is so very important for souls. Thank You for his priesthood. What a joyful, holy priest son of Yours he is. Thank You for blessing us with his visit. I hope our paths cross again one day and that he returns. It is sheer joy to be part of the family of God, my Jesus. Thank You for making this possible by Your sacrifice of love. Lord, help me to bring You to my small corner of the world. Help me to make You known to others. So many souls are lost, Jesus. You must help them find You, Lord. Blessed Mother, take their hands and help them to find Jesus, our Lord and Savior. Prepare hearts for Your coming Kingdom, Lord. Jesus, I trust in You. Jesus, I trust in You. Jesus, I trust in You. Saints and angels in Heaven, pray for us. Most Holy Mother of God who is the Queen of Heaven and Earth, pray for us. Our Lady of America, pray for us.
(God the Father, speaks) "My little one, thank you for your prayers and petitions. It is an act of love and charity to pray for others. There are many, many souls in desperate need, My child, for they live in the darkness of sin and error. They do not even realize the grave danger they face due to the rejection of the One who created them out of love. Their souls are lonely and sad without love for God. Those who know, but reject Me live in quiet desperation. They condemn themselves and listen to the lies of the enemy that they are not worthy of love, of God and of joy. The evil one speaks to their passions for power, self-indulgence, licentiousness and deceives souls into thinking this is freedom. It is the opposite. It is slavery and bondage. Sin is rejection of the good. It is rebellion against the love and the truth. What is love, My Children of Light? I am love. I showed the world love by creating mankind, the first man and woman. I did this out of love. The first man was created out of nothing, as is often said. This is true and yet the essence, the ingredient I used? My love. My creative power, My love, My thought was on the one I wanted to create, to love, to have a close friendship with, to teach all about Me. To have one created in My image. He was lacking one like him, a person who would complete him in human form and this woman, Eve the mother of the human race was created then by Me from the bone of his side. Read Genesis, My children. Read Genesis, again, because it has been too long since you read the creation story, the love story of how My children came into being out of My love. My Word is the story of your history, My Children of Light. These are not fables or legends or make believe. No, this is your story, your family's story; the love story of My people and how I loved you before you were created. I knew you would be here in this time. You were known to Me before time existed. Before I created the Earth, I knew you. Reflect on this My children. From the time of Abraham, Isaac, Jacob, Moses, John the Baptist, Jesus, up to your time, I have been intimately involved with My people. You, My children are 'My people'. All who love and follow Me. I love and depend on you to reach your brothers and sisters, My lost children, so they will come to know Me. What makes brothers and sisters, little ones? Parents! (smiling) You know this in the physical, so you must realize it is also true in the spiritual. I am your Father and therefore all who are baptized into the family of God are brothers and sisters."
"What about those who are not baptized? They are still My children, but there is much work to do to bring them home to My family and yours. Evangelize, My Children of Light. Share the goodness of the Gospel with them. Do not hide the beauty and richness of the Faith from them. Share and be generous. There is enough love from Heaven to go around so do not hoard this knowledge, this love. Be generous with My love, which flows into your hearts and out to the world. To do otherwise is what is meant in Scripture by the words 'hiding your light under a bushel basket.' What good is light if it is hidden? Light is meant to illuminate the darkness. When light is hidden, there is darkness. Did I create light to be used to illuminate, so that you can see when it is dark? I gave the world light, practically speaking so that you could see in the darkness. At first, I taught man to start a fire, to give warmth in the cold and light in the darkness. Later, man learned to make torches and lanterns and later still to use electricity and to harness this for light. My children, when the world was in danger of so much spiritual darkness, I gave the Light, My Son, to the world. He came to illuminate your souls, so that man would once again know of the Father's love, almost forgotten through generations and generations removed from the Garden."
"My people, the Jews, specifically the teachers of the law had laden the people with so many heavy burdens, that they no longer knew of My love and My mercy, only of My justice. They did not even really know My justice, but what man said was My justice, which was legalistic, oppressive and lacked mercy and love. They had forgotten love or rather chose spiritual superiority over love and pressed people down in order to appeal to their (the Pharisee's) pride and lust for power and wealth. My poor children of Israel were without hope, except for their hope of the Messiah. In the fullness of time, in the depths of spiritual darkness, I sent My Beloved Son, the Second Person of the Trinity into the world to show mankind My love. I sent My love to the Earth, so much do I love My children! Jesus, your Savior came to save you from sin, yes. He also came so that you would know Me, love Me and return to Me. My children of love, My Son cared for you. He, the Good Shepherd, came to show My love personified, to live among you, to befriend you, to share in humanity. No longer can people say, 'God doesn't know what it is like for us creatures.' God became one with you, sharing in your humanity, sharing in all that My people go through; all except sin. He brought wisdom, light, truth, mercy and love of God into the human race by becoming man. The God Man then lived, dwelled among you, healing, teaching, sharing His life, casting out demons, freeing souls, uplifting the downtrodden, making the lame walk and the blind see, restoring the dignity of those who were considered outcasts and proving God's love by giving His life on the cross to redeem the human race and to restore all that was lost through sin and rebellion against God. He rose so that you would have hope in the resurrection and to show you what you would experience one day in My heavenly kingdom. Reflect on this, My children. Renew your strength by reading and absorbing all I have given you in My Word, for you must know in the depths of your souls how much I love you. You must know this truth, so you can realize your inheritance is Heaven. Your inheritance awaits you in Heaven. It does not lie here on Earth. It is not the property, the money, the material goods you acquire in this world. These things will all pass away. They are goods, when used to alleviate the suffering of others, and to bestow material blessings on those who are less fortunate. Yes, these are blessings when used properly. When shared in love with others, but they are not your inheritance. Your inheritance is in Heaven, where you will come one day at the end of your earthly pilgrimage. Keep these things on Earth in their proper perspective, My children. If you have been blessed with material goods, share them with others. Do so in love, not as a way to feel superior to others. The poor, the underprivileged, the less fortunate, and those who are temporarily in need, are your brothers and sisters. They are deserving of your love simply because I love them; I created them in My image and likeness. That is all, My Children of Light. I love them. I love you. That is all you need to know. There is nothing for you to judge. Do not say, 'they are not worthy of my gifts because they do not work as hard as I do.' Who gave you the ability to work? I did. Who gave you the skills, the intelligence, your personality? I did. I gave you all that you needed to thrive in the world and I expect you to share with your fellow man. Do not think I am always referring to giving money. That is good, too but I prefer you also give of your time and your love. There are many who do not have the benefits of being raised by good, loving parents, who need a home and loving parents. There are many who have not learned skills needed to earn a living for their families. Share your knowledge, teach others, give your time, your patience, your selves so that others will see they are not alone. The family of God cares about their wellbeing. There are too many lonely people in the world and this is unnecessary. Share your love. Befriend others. Smile and greet people you meet wherever you go, My children. It is not difficult, but it requires attention. Be attentive to those around you. My children are often too self-absorbed. Think of others, My dear ones. Be like your Jesus and His disciples. Imitate My Son. Imitate the Holy Family. This is the way to save souls, My Children of Light. Do this now and help bring about My Kingdom on Earth and in Heaven. You pray this in the prayer Jesus taught you, the Our Father. Pray, but also act. Bring about My Kingdom by living the Gospel. Pray, love, and be merciful. These require action, My children. Live, My children. Live. Do not merely sit around watching stories about other's lives. This is good when you are viewing or reading lives of the saints but then you must actually live yourselves. Be the salt and the light. My Son lived and died for you and He established His Church to carry on the rescue mission for souls. You are the Church, My children and your work is the work of your family, God's family. I remind you of this now, because many of you have forgotten. You are like the virgins who did not fill their lamps with oil in time for the bridegroom. Do not be like them. Awaken from your slumber, your complacency, your 'denial' and be alert. Open your eyes and see what state your world is in and begin to love. Love is sacrifice. Love is going outside one's comfort zone. Love is to give of oneself for the good of the other. Love, My children and if you do not know how to begin, ask My Son Jesus to show you. Speak with Him. Ask the Holy Spirit to guide and direct you. Ask the Blessed Mother to teach you as She taught little Jesus. All of Heaven is at your disposal. Your brothers and sisters in Heaven pray for you. Ask them to intercede for the graces you need. I send holy angels to guard you. Ask them for their protection and their guidance. They will direct your steps. I have given you all that is needed and more than you can imagine and yet you do not make use of these gifts. It is time, My children. The hour is very late. Your Holy Mother Mary intercedes for you. What are you waiting for? Souls are at stake. I am depending on your love and your goodwill to rescue souls. You will not do this alone. You couldn't possibly do this without Me, but I designed your mission on Earth to be carried out with Me through your cooperation, your 'yes'. I will see that you have every grace needed. The power of the Holy Spirit will work through you. Yet, I am depending on you, My Children of Light."
"My little lamb, I am with you. Thank you for your 'yes' to Me and for choosing to be here in My presence and writing the words I give you for the good of souls. Trust in Me. All will be well. I will guide you in your work. Invite Me to participate in all you do. I hear your prayers and your concern for others. Continue to intercede, My (name withheld) and My (name withheld). Your Lord hears you and I listen to the prayers of My children."
Thank You, my Lord and my God. Oh, my beloved who is also my God, make my heart a flame of pure love for Thee.
"I bless you, My child, my (name withheld) in My name, in the name of My Son and in the name of My Holy Spirit. Go in the peace of My Son, Jesus Christ. By His cross you are saved."
Thank You, Father. I love You. I love You, Jesus! I love You, Holy Spirit! Amen! Alleluia!