Sunday, November 24, 2019
Adoration Chapel – Feast of Christ the King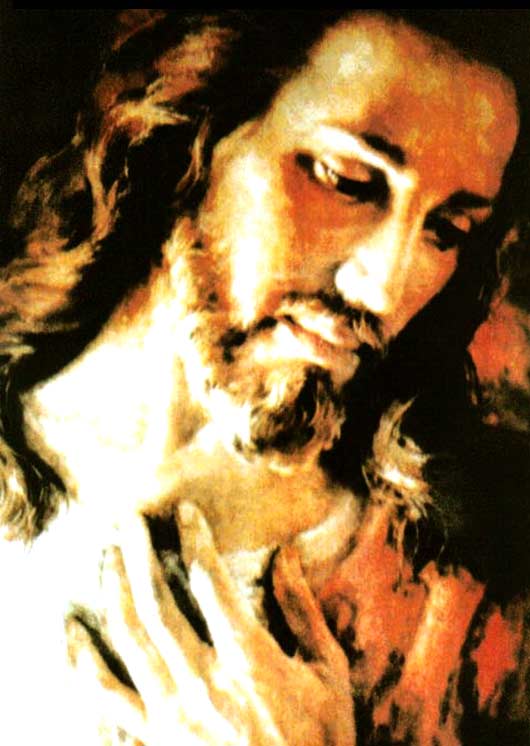 Hello, my dearest Jesus ever present in the Most Blessed Sacrament of the Altar. I believe in, hope in, adore and love You. Praise You, Lord Jesus Christ our God and our King. Happy Feast Day, Jesus! Thank You for Holy Mass and Communion today, Jesus.
Thank You for my family and the opportunity to get together with them yesterday.
Lord, there are some who have been led astray, and some people are very far from You.
Please give them graces for open hearts and hearts for conversion and repentance. May we all be one in the Faith, as You prayed, Lord. Please protect our President and Vice President as well as their families. Keep them in Your Holy Will. Lord, be with all who are ill and who will die today and tonight. Enfold them in Your mantle of protection, Blessed Mother. Lord, give them graces for conversion and console them, Jesus. Lord, You know the people I have on my heart. I give them all to You, Jesus and place them at the foot of the cross. Take care of things, My adorable Jesus. Your Will is perfect. You do all things perfectly. Thank You, Jesus!
Jesus, I also ask that You bless the people who attend Fr. Michel's talks. Please open their hearts and minds to all he has to say. Prepare the people in our area, Lord for what is to come so that more people will be aware and alert, and will be given reason and a deeper sense of urgency to pray. Help us, Lord.
"My child, all will be as planned by My Father. All will be well. Your openness, your 'yes', is all that is needed. Allow Me to do the heavy lifting. Those who attend will be the ones I have invited and who accept My invitation to hear My holy priest son. I am blessing your words and your conversations, My little one so do not be concerned. Pray to the Holy Spirit to empower and sanctify your words in order to touch hearts and awaken them. It is My desire that many come in order to be prepared. Therefore, this work is anointed and will bear much fruit. Thank you for encouraging My son, (name withheld) in this."
"I am answering your prayers for your family, friends, and those in your area that you long to have My flame enkindled within their hearts. I aim to set the world on fire with the power of My love and I look to the Children of Light to prepare the way. You are to be My little apostles and spread My message of love and mercy to others. The graces for evangelization pour out to you and all My Children of Light as in the early days of the Church when My Apostles and My first disciples spread the Good News"
"Dark times call for a multitude of graces. They are yours for the asking, for the good of souls. Do not be afraid, My Children of Light. There is nothing for you to fear for I am with you. I am counting on you to spread the Gospel message. The state of My Church on earth should give you a heightened sense of urgency. My Church, My Body on earth is nearing its crucifixion. Do not leave My Church, little children because of the sins of men. Do not abandon My body, the Church, rather stand with Me on Calvary. Walk with Me during My passion. Pray for your brothers and sisters, whose souls are at stake. Watch and pray, My children. Love one another as I have loved you. When you frequent the Sacraments, you will receive every grace needed. Do as I ask, My children for time grows short and you must be prepared to help others who are less prepared. My children, I am working through you. I can use every circumstance of your life if you allow Me to do so. Cooperate with Me and I will use everything for the good of others. Trust in Me. All will be well."
Thank you, Jesus! Praise You, Lord!
"My little lamb. Read Genesis and see the parallels with today. I will guide you in this. All My children should familiarize themselves anew with this book in My Word. You must be able to discern the Word of God and apply it to your times. Read of My Mercy and My Justice. Read and understand. Ask My Holy Spirit to guide you."
Thank You, Jesus. We will read.
"My little lamb, remember to ask the Saints for their intercession. This is very important in these days. Ask especially for those whose names I made known to you as they have special work to do in these days and have been assigned by Me for your mission. They await your request for prayers as do all the Saints in Heaven for My children on earth during this dark and difficult time in history. Be My light, My children. Spread the love and mercy of God to all you encounter. I impress upon you to do this for the days are short now that the Son of Man will reveal Himself to souls. Be mercy. Be love. Be light. Be not afraid. My Mother's Immaculate Heart will soon triumph in the world, but first you must endure. Carry your crosses with joy and thanksgiving offering each cross each trial for the salvation of souls."
"My children, each one of you has a specific purpose and mission for souls. I have given each of you specific graces, gifts, and skills to use for the coming of My Kingdom. Put these to good use for the love of your brothers and sisters. If you do not feel love for them, do your best for love of God. I will use anything done out of love for Me. Even the smallest task done for love will be multiplied, My children. Remember to offer all for Me out of love. Ask My most holy Mother Mary to guide you in all you do, and pray for Her intercession. Remember to thank Her for all She has done and continues to do for you, Her children. Recall that She brought Me, the Messiah into the world and gave Me Her flesh, Her love, Her joy, Her care, Her instruction, united in perfect union with the Father. Had it not been for Her, 'yes' the course of history would have been very different. She takes all of Her children's prayers and needs to the Father and lovingly presents each one to Him. Yes, My children, I said each one. She mentions each need from each individual to the Father. My children, you are not just one among many in the eyes of Heaven. Each beautiful soul, each troubled soul is an individual soul with a precious name and an identity as a child of the Living God. Rejoice in this, My children. Each one of you is known by every saint and angel in Heaven and most certainly by God the Father, Son, and Holy Spirit. Be thankful for such a holy Mother who loves you as to present each request and every need to My Father."
"Do you not see the reason I stress the importance of My Mother's intercession for you? Is it not wise to ask for Her prayers? Yes, My children. One can easily see that it is and therefore, do as I suggest, and ask one who loves perfectly as I do and who has a perfect Motherly love, to pray for your intentions. Teach others about My most holy, most pure Mother Mary, My dove who is very powerful against evil. Her humility causes demons to flee. They cannot stand to be in Her presence. Remember this, My children and call Her often for your assistance. Ask St. Joseph for his protection, as well and meditate on the life of the Holy Family. Speak about the Holy Family to your children and grandchildren. Dedication and devotion to the Holy Family will save many marriages in this day. Pray, My children as I have requested. Pray much; pray often. Pray all day and every day. Remain in a state of grace and be love and mercy. Be peace and joy. Open your hearts and your homes to others and help those who do not have a spiritual home or family to find one in your hearts."
"I bless you, My little lamb in the name of My Father, in My name, and in the name of My Holy Spirit. Your spiritual father, St. Pio blesses you, also with his fatherly, priestly blessing, My little one. He prays for you and accompanies you, along with your guardian angel."
Thank You, Lord. This is humbling and overwhelming at the same time. I am very grateful, Jesus. I love You. I love St. Padre Pio and the many saints you have given to me and to my family. Praise You Lord, now and forever.
"I love you, My child. Go now in My peace and in My love. All will be well. All will be well."
Amen, Jesus. Alleluia! Praise You, Christ the King of Heaven and earth!