Sunday, December 11, 2016
Adoration Chapel, 3rd Sunday of Advent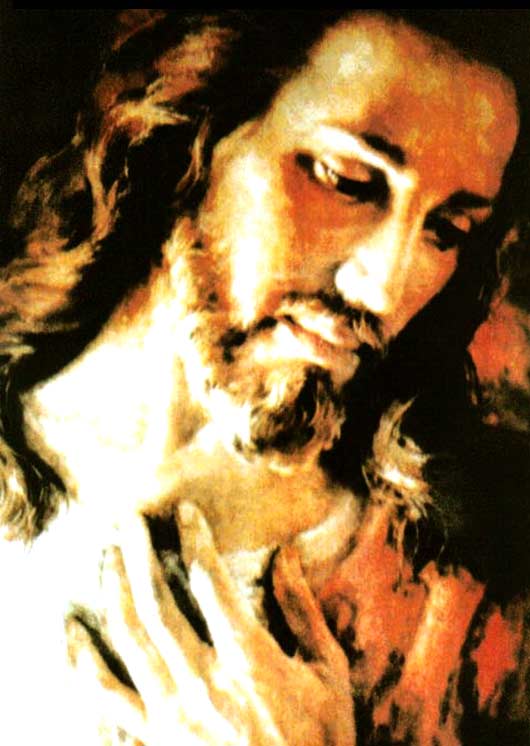 Hello, Jesus present in the Blessed Sacrament. It is so good to be here with You, Lord. I love You, I adore You and I praise You my Lord and my God. Thank You for holy Mass, and for our priests and for (name withheld) the seminarian who has come to us. (our parish)
Jesus, please help (names withheld) and their family during this time of sorrow. Please take their son to Heaven, Lord. Please help (names withheld) to deal with this sudden tragic loss of husband and father. How difficult for them. Jesus, please help (names withheld) also and (names withheld) who lost their baby daughter recently. We know our loved ones aren't "lost", Jesus. You know where they are, but it seems appropriate to say lost, when one dies, for it seems like a loss for those of us who remain.
Jesus, I pray for all those who are ill; for those suffering from cancer, Alzheimer's, renal failure, pneumonia and respiratory diseases, Jesus, for all who are lonely, who are unable to leave their homes or who are in nursing homes, the hospital and who feel abandoned by their loved ones. May they receive graces to know they are loved by You, by all of Heaven and even loved by those of us who do not know them, but sense their suffering regardless. Jesus, comfort them and bring them Your peace. Lord God, I commend to You those who will die today. Embrace them and take them into Your Heavenly Kingdom. Thank You, Lord.
Lord, my prayers have seemed dry to me lately. I think my words are worthless chatter and nonsense. They are coming from an arid heart, Jesus. Perhaps, I'm "heartless". I don't know Lord, but my soul is filled with doubt and many concerns. I doubt myself, Jesus so much so that at times I don't know what to make of it. Lord, I suppose none of this matters, anyway. I should be focused completely on You. You are everything to me, so please forgive me for this if I am out of line. I do feel as though I can tell You everything, no matter how trivial, and I am grateful that You care about even the smallest of our concerns. Thank You for Your goodness, Your love, and for Your great mercy. I love You, Jesus. Help me to love You more and more. Transform my puny, loveless heart, Jesus and restore my soul. Lord, I really don't think I asked for the right thing. Just give me a heart like Your Mother's. I need a complete heart transplant, Jesus.
Blessed Mother, Mother of my Lord Jesus, give me Your heart, please. I would give You mine in return but it is quite poor and You are so beautiful and good. You are the Queen of Heaven and earth and what could You want with my heart, yet still it belongs to You. All that I am and all that I have, came from God and since You are His Mother, it is rightfully Yours as well. Since You are my Mother, by the grace and benevolence of Jesus, all that I am and all that I possess is Yours. (That isn't saying much, though.) It is as if a beggar, living on the streets, dressed in rags knocked on the King's door and the Queen Mother answered it. The beggar said, "Dear Queen, I give you everything I have. I just wanted you to know that all I have belongs to you." This is how it is with me. I realize I have nothing, but still I desire to give You everything and wish it was much, much more. But what could someone who has everything need? I am very relieved that You want what all mothers want, the love of their children. This I can give You dearest Mother of my Lord. I can and I will give You my love as small as that is, that is what I can give. I give this to You, Blessed Mother and I ask You to take my imperfect love and make it something beautiful to give to Jesus. Everything You give is perfect and lovely, so please take my simple, un-extravagant gift, remake it into something beautiful and give it to my Lord. Thank You, beautiful Mother. I love You. I entrust all of my needs, my loved ones and their needs to You. Please present them to Your Son. Tomorrow is Your feast day, Blessed Mother. I love Your apparition and the history of what God did through You and Your messenger, Juan Diego. Please transform our country in the same way. We are a heathen culture, dear Mother and we are killing sweet little babies in their mothers' wombs. Please plead with Jesus to heal our hearts and souls; to remove the scales from our eyes so that we see truth and stop these horrible crimes against the holy innocents. Holy innocents of Bethlehem, please pray for our conversion. You, the first of my Lord's martyrs, please pray for us.
"My little lamb, I am glad to see you and to be with you. You are always with Me, for I walk with you, but having you here with Me in this small chapel is pleasing to Me. I am pleased that more of My children are visiting Me in Adoration during this Advent time of waiting and watching. My children must practice waiting and watching for Me. This spiritual practice is very much needed in My children of today."
Jesus, it seems that in order for us to wait and to watch for You, one needs the virtue of hope. Since this is one of the theological virtues, it comes only by Your grace. Jesus, give us the gift of hope, so that people desire to wait for You and to watch for You. Give us faith, hope and love, Lord. Give us open hearts, so we are ready to receive You, Jesus when You come to us again on Christmas day.
Jesus, the shepherds were keeping 'watch' over their flocks when Your angels appeared announcing tidings of great joy. I think they were waiting and watching for You, the Messiah, though also. They must have told stories as they warmed themselves by the fire at night. I imagine they talked about the coming of the Messiah for generations and perhaps the shepherds spent more time contemplating You as they herded their sheep, watched over them by night and cared for their flock's needs. You must love the shepherds very deeply for dropping everything and even abandoning their sheep to go see the new Messiah wrapped in swaddling clothes and lying in a manger, a feeding trough for animals. My heart goes out to them and I long to have been a witness to have seen all of this take place. Jesus, please show us this sometime, Lord. I would be so grateful to see Your life, as much as possible for me to bear. Perhaps You will allow those who get to Heaven see this somehow. At least, I can imagine in some small way, what it must have been like. Thank You, Lord for all You have done for Your people. Thank You, for all You have done for me and for my family. Your love has no limits, Jesus.
"You are welcome, My child. I do so love you. It is good for you to contemplate these scenes in My life, child. Though you cannot see as though you were a bystander, your contemplation takes you there in your heart. I am present to you and am outside of time, for I created time. Come along with the shepherds of old. Walk with them as they followed My star and found Me just as the angels had told them. Come. Draw close to Me as I lay in the manger and then as I began to feel the cold, dampness of night, and began to whimper ever so softly, My Mother took Me in Her most tender arms. Come. Adore Me, My child for those who adore have open hearts full of love and can readily receive the gifts I have for them. Each gift I have to give is uniquely made and is specific to individual souls. Just as you give different gifts to your children based on their needs and desires, so do I give different gifts to My children. Though the shepherds brought gifts to Me, such as cheese and other small items in their possession so too did I give them gifts for leaving all that was dear to them, to come to adore Me, the newborn King. Yes, My child, it was a beautiful night. Indeed, it was a holy night, for I, God had come to the world, to all mankind, to live among My people. In the warm embrace of My Holy Mother Mary, and under the protective mantle of My beloved St Joseph, it was a very holy night, indeed. It was the first time since the fall of Adam and Eve in the Garden, that I set foot on the earth to walk among men. Though it was holy, it was also painful to feel the cold, dark souls of those around Bethlehem who had refused the holiest of My people, room in their homes and inns. This caused Me the most pain in My first hours of birth and before birth, but it was also My Father's Will that I be born in such mean estate, for I came for the poor and the sick, not for those who considered themselves above God, but for those who loved and served God. I came for those who did not believe and who did not love also to show them the love of God. That is why My children, you should also love those who seem far from God, for I loved them first. You are to do the same. Some people are most difficult to love. Reflect on this, My children. Who in your life is difficult to love? Pray for the grace to love this person. Pray for this person or persons to be open to receive My love and then pray how best to show them My love. Ask Me and I will direct you. Begin now, My children. This will be a beautiful gift to give to Me when the day of My birth arrives. I will receive your gifts of loving kindness with great joy."
Thank You, Lord. It is lovely to think about an outpouring of love and kindness over the next several days leading to Christmas. How beautiful.
Jesus, please bless (names withheld). They are so faithful to adore You. (Name withheld) knees are so painful, Lord and yet she still keeps her appointment time for Adoration. Please heal her, Jesus. She is concerned that she is a burden to others. I know she is a blessing, Lord and not a burden but she loves her son and knows this is difficult for him. Lord, what a faithful soul she is. Jesus, I also pray for those who are suffering from depression. The winter season is especially difficult for some people due to the lack of sun light. Comfort and console them, Jesus. Help them to feel close to You.
"My child, I am especially close to those who suffer, for I suffered. I will comfort those who suffer and those who long for Me will be consoled. My child, I hear your prayers and they come from your heart. Do not be concerned for the way you are feeling. Your heart may feel dry but it is certainly not tepid. You have much love for your brothers and sisters. Thank you for comforting those who are in mourning. This is what I want My children to do; to reach out to those who mourn. Walk beside them. Cry with them, My children. It is difficult to bury loved ones, especially so when they die just before Christmas since so many get together with their families this time of year. There is a void left, however think about how wonderful for souls to be in Heaven with Me for the great celebration of My incarnation and birth."
That would be incredible, Jesus!
"Yes, My child, it will be."
Jesus, have You anything more to say to me?
"Yes, My child. Prepare yourselves for the coming celebration of My coming into the world. Receive the Sacraments. I have graces for you, each one, and they are waiting for you in the confessional and at the breaking of the bread, Holy Eucharist. My child, I noticed you were suffering today during Communion. I was with you, body, blood, soul and divinity under the form of the wine. It is alright that they did not have a host, My child. I was with and in you in the consecrated wine. I will not abandon you, My daughter so do not be concerned about that. All is well. All will be well."
Thank You, Lord. Thank You for Your presence in my life and in the lives of those around me. It is a true gift of grace to witness You working in the hearts of those around me, through (name withheld), through those who care for him. I can see the giving and receiving of grace that flows from Your merciful, loving heart. Thank You, Lord for the gift of life. Help us to reach out to those who are lonely and afraid. There are many people in the world who do not know Your love or have not experienced Your love. Help us, Your children to bring Your love to them. Help us to be Your extended hands and the extended hands of Your Holy Mother Mary.
"Yes, My child. I desire that all of My children be My Mother's extended hands. Reach out to those in need. Be alert and awake so that you see My beloved children in need. They are all around you. Be aware and pray for My guidance. Be open to them even before you see them. Prepare your hearts. Remember that by doing loving acts of kindness you are doing so for Me. Do not be too busy to love each one of My children. They are very precious to Me. Even if they are, as you say, like a beggar, My child they are not beggars to Me, but My precious, beautiful children and I long to heal each one by My love. You, My Children of Light must take My love to a hurting world. There are souls all around you who are desperate for a kind word, a smile, a small act of love so they will be noticed. To notice is to give another dignity. To notice, with a greeting and a smile, a kind word or gesture of love. The small acts of kindness are not small to Me, My children when they are done out of love for Me and for My Most Holy Mother Mary. I have given you so much of My love, children, give even just a little of this to others. Live the Gospel, My children. Live for Me. Prepare your hearts for My coming. I desire to dwell in Your hearts, but I do not impose Myself. Please invite Me. I await Your invitation My children, but do not delay too long."
Jesus, You are a perfect gentleman, though You are the all Mighty God. You amaze Me by Your gentility, Your respect for our free will and Your great love and infinite mercy. Please dwell in my heart, Jesus. I invite You, Lord God and I await Your coming into my heart. Please do not come as a visitor, but set up residence there. I realize I am unworthy, Jesus but I long to be united with You in this way. Please overlook my sins and my faults and come in spite of them. Once You do, they will burn away like straw. Purify my heart, Lord. Give me a heart like Your Holy Mother Mary. Give me Her faith, Her courage, Her zeal for You. Help me to give Your love to others, Lord but in order to do so You must plant Your love within my heart, so that it blossoms and grows to overflowing. Help me to love and serve You, my Jesus. I love You!
"My little one, I love you. I am with you. You have Me, My child. I am working in you, though you do not see this. Lean on Me. That is My desire."
Thank You, my Lord. Thank You for helping (name withheld) get through surgery and for getting him home to his family. Help him to continue to recover his strength and health. I pray this for (name withheld) also and for (name withheld) and all who are ill. Please convert her heart, too Jesus. Give her the gift of faith. I pray also for those who are away from the Church. Bring them into the fold, dearest Shepherd of hearts. I love You, Jesus.
"I love you, My daughter. Go in peace. I bless you in My Father's name, in My name and in the name of My Holy Spirit. Be love and mercy, My child. Be My joy."
Amen! Alleluia! Thank You, Lord.