Friday, March 17, 2023
At the Edge of the Warning, Human Creatures Feast Together with the Devil
Message of Saint Michael the Archangel to Luz De Maria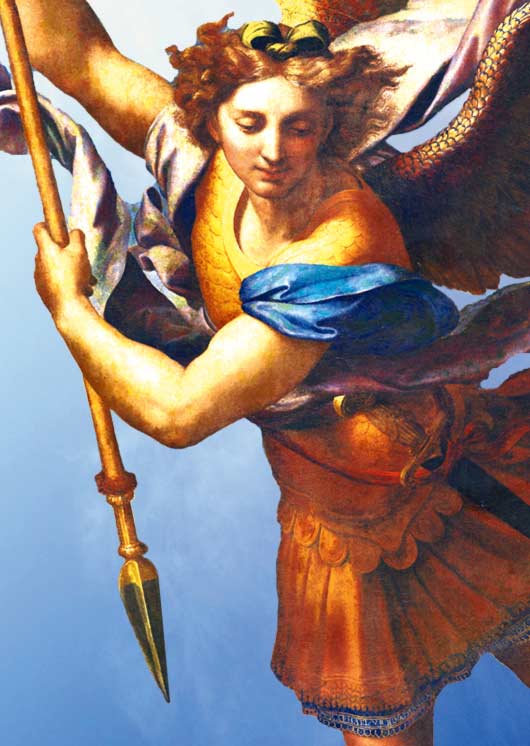 Beloved children of our King and Lord Jesus Christ:
THE CHILDREN OF GOD WALK WITH THE IMPENETRABLE SHIELD OF FAITH (Eph. 6:16-20), ASSURED THAT IT IS CONFORMED BY LOVE AND DIVINE MERCY.
Large numbers of human creatures continue to disbelieve in Our King and Lord Jesus Christ and this is the great failure of this generation.
At the edge of the Warning, human creatures feast together with the Devil....
THE WARNING (1) IS NOT FAR OFF...
RAMBLE BETWEEN DATES AND IT IS NOT FAR OFF...
In the plans of the Devil is to come to destabilize the faithful of Our King and Lord Jesus Christ so that they will turn away from Christ Himself.
So many children of Our King and Lord Jesus Christ who monopolize preferential places in acts alluding to the Devil, not knowing that they will become his slaves and treated severely as slaves of the Antichrist.
Children of Our King and Lord Jesus Christ:
YOU LIVE AGONIC MOMENTS AND AFTER THE AGONY: WHAT HAPPENS? Though first the bear (2) shall rise up from his den and lead mankind to suffer, great din shall he cause in Europe and America. The bear, who seemed prudent, will bring out his arsenal and surprise.
Calm seems to be maintained in humanity and they do not look at what is happening to their brethren in other latitudes.
My angels are moving around the earth (Ex.23:20; Ps. 91:11), extinguishing enraged minds with desires to repeat the history of Nero with weapons of great power.
This generation will see a comet (3) pass very close to the Earth, so close that it will cause it to move.
Pray children of Our King and Lord Jesus Christ, pray for France, it burns for its own people and for those from other nations who have come to cause clashes.
Pray children of Our King and Lord Jesus Christ, pray, the economy is reeling and mankind suffers from very high prices. America suffers heavily.
Pray children of Our King and Lord Jesus Christ, pray before the new disease of high fevers, which affects the respiratory tract severely and the skin of the human creature will become dark colored and flaky. I call you to use St. Michael the Archangel Oil on the skin, fumitory medicinal plant and Good Samaritan Oil.
Pray, children of Our King and Lord Jesus Christ, pray to make reparation, to cry for mercy, and that you may be humble and true children of Our King and Lord Jesus Christ.
I CALL YOU NOT TO WAIT FOR THE LAST MOMENT TO CONVERT. Repentance is necessary. You must elevate the spiritual state so that the state of the soul is more akin to the Creator.
As children of the Father you are defended with the same Divine Love. My Legions will not turn away from you, we will always be defending you.
I CALL YOU TO PLACE ON THE ANKLES OF THE CHILDREN WITH A CELESTIAL COLORED RIBBON WITH AN ICTUS (4), SIGN OF CHRISTIANS. Look for a medal and place it with the ribbon. The age for children to wear this medal is from one year old and up to 10 years of age; although faith is infinite and if some older ones wish to wear the ictus they may wear it. THIS WILL KEEP THEM PROTECTED FROM EVIL SPIRITS.
You are blessed, go forward without fear. Faith is indispensable.
I bless you.
Saint Michael the Archangel
AVE MARIA MOST PURE, CONCEIVED WITHOUT SIN
AVE MARIA MOST PURE, CONCEIVED WITHOUT SIN
AVE MARIA MOST PURE, CONCEIVED WITHOUT SIN
(2) The bear represents Russia
(3) About asteroid danger, read...
(4) The Ictus (=fish) in Greek , Christians meant to signify veiled the initials of the full denomination of Jesus of Nazareth: Jesus Christ, Son of God, savior.
COMMENTARY BY LUZ DE MARIA
Brethren:
Going the narrow way is not easy, but we do know that we are not abandoned because the Divine Help is with us.
St. Michael the Archangel places us before a very serious panorama that we as humanity are entering. We are facing a world economic crisis, and this will lead to the increase of everything that is for us of prime necessity and the shortage increases. The climate has devastated the lands destined for planting in several countries around the world.
The Prophecies are being fulfilled and we must know them to realize that Heaven speaks and must be listened to.
OUR LORD JESUS CHRIST
11.02.2013
Man relies on the economy for their security and they forget that I am the one who provides... The economy will fall into a deep pit, and the man of little faith will be shaken to bewilderment and beyond.
THE MOST HOLY VIRGIN MARY
05.04.2016
Poor children, those who before money fall on their knees! Before the fall of it, irretrievably throughout the world, it will be like a game of dominoes, in which money will collapse without their being able to limit it. You, My children, will watch in amazement as too many of your brethren will fall prey to the disease of lack of economic power and the devil, taking advantage of this moment, will offer them comfort in exchange for their souls. It will be when the evil legions will take the bodies of those children of Mine who will sell themselves for money, being persecutors of those who were once their brethren. PRAY WITH FAITH, BEFORE THIS PROPHECY IS FULFILLED.
OUR LORD JESUS CHRIST
30.04.2015
A comet will appear that will convulse all mankind. You people stay in your homes. Have Blessed Water ready, let there be a Bible in every home and in every home dedicate a place in the house to place a small altar with the Image of My Blessed Mother and a Crucifix and consecrate the home to My Holy Will so that I may protect you in the necessary moments.
SAINT MICHAEL THE ARCHANGEL
30.04.2019
IT IS NECESSARY FOR THE PEOPLE OF OUR KING AND LORD JESUS CHRIST TO UNDERSTAND THAT THIS INSTANT IS DECISIVE and therefore evil is found using all the wiles it possesses in its vile weapons to mire the minds of the children of God. Those whom he finds lukewarm in faith, he induces to fall into nefarious deeds and thereby more easily places them in chains to be his slaves.
OUR LORD JESUS CHRIST
14.04.2016
My beloved People, you will suffer before the irreversible famine of natural resources, you will suffer in the whole Earth because of the fact that the whole economy will stop, due to the plan gestated from of old by the groups that precede the antichrist.
Amen.
See also...
On medicinal plants, read... (Download PDF)