Sunday, June 19, 2022
Feast of Corpus Christi, Adoration Chapel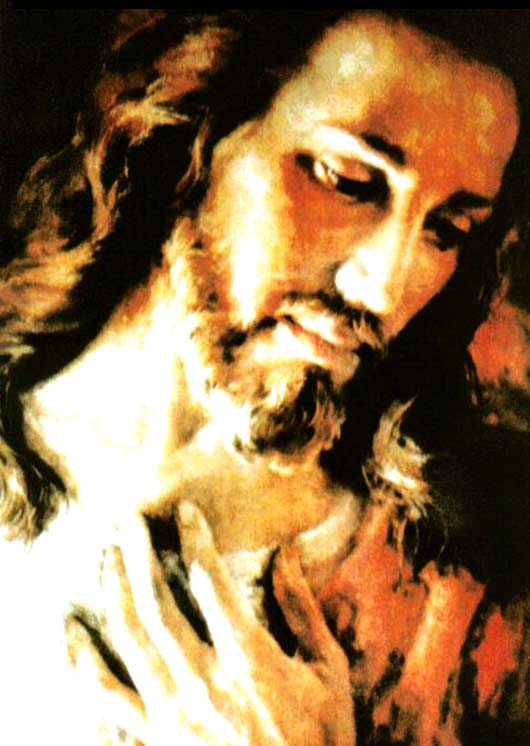 Hello my dearest Lord Jesus present in the Most Blessed Sacrament! I am filled with joy to be here with You, Lord. Happy feast day, Jesus my King! Thank You for Holy Mass and Communion, Sweet Jesus. I believe the world is sustained because of the Mass and holy reception of the Eucharist. Lord, I'm being bold to say this because I don't know this by any authority. It's just what I think and it was evident when we were unable to attend and participate in Mass during the recent 'lockdowns' that evil flourished in the world. When I reflect on the past 10-15 years, I'm amazed at how much evil has been thrust upon us. It is almost shocking. You have prepared us for these times, but still it seems like I am standing in the middle of a violent storm swirling and raging all around me. I can look through the debris, wind, and rain and see that the sun is shining and people are walking around as if they are completely unaware of the storm coming down the streets of their towns and cities. It's as if they are blind and yet they seem to be carrying on with their lives unaware that a tornado or hurricane is about to hit. Lord, all the while several of Your people (Children of Light) see the storm raging. They call out to those outside of the storm and try to warn them but no one hears. They do not even appear to know people are trying to warn them. Lord, this is disturbing and yet this is what I think is occurring in reality. There really is a storm raging and headed in our direction, yet many are oblivious. Lord, what can we do to help others prepare spiritually? I don't think I am very well prepared myself but at least my family and I are working towards this. Lord, You have done everything and have given every means to Your people and yet so many are oblivious. Scripture has many parables and stories throughout all of the history of Your people to give us insight and to prepare us. You have sent and continue to send Your Most Holy Mother Mary to warn and admonish us. You have given us Your Church and the Sacraments, Scripture, prophecy and countless gifts and blessings. All of creation groans for Your coming, Lord. Still, there are so many people completely unaware of the state of sin and evil in the world. Lord, please help us. Save us from this evil, Lord that wants to devour Your little children. Lord, is another like Hitler and Stalin set on destroying Christianity, the Catholic Church? Of course, I know the answer and there have been many throughout history set on doing so, but You are the Lord God Almighty, Creator of Heaven and Earth. This is Your Church Lord. Save us, Savior of the World. You promised us the gates of hell would not prevail against Your Church and I believe this with my entire being. I know this is true, because You said it, Lord and You are the essence of truth. Jesus, protect us from the evil one who prowls throughout the World seeking the ruin of souls. Do something, Lord so no more souls will be lost. Countless souls are dying before they learn about You. I pray You are giving them full knowledge of You before they die and ask You also give them graces for conversion and repentance. Jesus, please take souls to Purgatory rather than the place of eternal fire and misery. Give souls graces to choose the Good, the Most High God. I plead the Blood of Jesus over the souls who do not know and do not love You. I plead the Blood of Jesus over souls who once knew You and later turned away. I plead the Blood of Jesus over those who have been led astray by others more powerful than they. Lord, thank You for all You have given us in this land of exile. I am grateful for each and every blessing, Jesus. Every good thing comes from You and things that don't appear good, pass through Your loving hands along with graces to bear these trials. Everything according to Your holy and perfect Will is for the good of our souls including the difficult crosses. Praise Your Holy Name. Praise You in the Most Blessed Sacrament. Thank You for Your love, Your mercy, Your guidance and for the teaching You left with the Apostles. Thank You for Scripture, the sacrifice of the Mass and for all that You do for Your people. I love You, Lord God. Help me to love You more and more. Happy Father's Day, Father God. I love You!
"Thank you for your prayers, My child and for pouring your heart out to Me. I awaited your coming today and am glad you and My son (name withheld) are here. My child, you were filled with joy when you noticed the chapel was empty upon your arrival. The thought of being here with Me 'alone' made your heart leap with joy."
Yes, Lord it did, but then I realized that was selfish of me, especially knowing it is the Feast of Corpus Christi. The chapel (and chapels everywhere) should be overflowing with people visiting You. I'm sorry I was focused on having You to ourselves rather than the fact that You were alone. As soon as I thought about it, I realized we should have rushed here directly, Jesus instead of taking our time getting here today.
"I understand, My little lamb. It is natural for one to be excited to be with a dear friend and to have their full attention. Remember that you always have My full attention no matter how many are here. Each one visiting has My full attention. I am God and I am able to do this, My child. You have My full attention now, even though others are praying and speaking with Me. They do, also."
Thank You, Jesus. Of course, this is true and makes me feel silly for my reaction.
"My (name withheld), this is not silly. I love you and you love Me. This is natural and good for friends to be pleased knowing they are together and have individual time. I am pointing this out and also informing you and others who will read these words that each time one visits the Blessed Sacrament, even if there is a crowd, I am present to each one as if we were having a private meeting."
Thank You, Lord. That is an amazing gift! Lord, please bless my husband and all fathers on this Father's Day. Give them courage, faith, hope, love and all gifts of the Holy Spirit. Our help is in the name of the Lord, Who made Heaven and Earth.
"My daughter, My son, St. Pio heard your prayers and he has brought them to Me through My Most Holy Mother. His advice to you was wise and correct. Remain very close to Me, as close as if you were walking by My side so I could put My arm around you. Keep this image in mind and run to My side as often as possible, physically and always remain near Me spiritually. This is a mental picture for you. Remember the vision of us walking together on the beach at water's edge."
Yes, my Lord. I think this image will be forever etched in my mind and heart.
"This is what I want, what I desire of each child of Mine. I desire a close relationship with My children, My friends. Those who reject Me cause Me the greatest suffering. Separation from one I love grieves My Sacred Heart. I invite every person created into a loving and intimate friendship with Me. This is the ultimate purpose of life, My child to know and to love God. God already knows and loves His children and your lives are to be spent learning and living in this love. When one chooses to reject God there is separation not only from Me but from all of Heaven and the Body of Christ, My Church. It is a breaking from the family of God and this causes the Blessed Trinity grief, for I do not want to lose one soul. All souls are created for life, love and Heaven, the Kingdom of God. My child, draw very near to Me and remain close to Me so that your friendship will soothe My Sacred Heart. Give this to My Most Holy Mother Mary and ask that She will see to this request. She does all things well, My child.
Yes, my Adorable Jesus. She does all things with excellence and purity. Thank You for Your Mother, Lord. Thank You for giving us such a beautiful loving Mother. I am sorry for the times I am ungrateful, Lord. Everything You have done for us, for the world was with our souls in mind. You came into the world to save us. You suffered an unthinkably cruel passion and death, for our salvation. You gave us Your Mother from the cross as You were in unspeakable pain. Every thought is out of love and concern for our souls, for Your Father as You petition Him for our sake. Oh, Lord You are all good and deserving of all our love. Teach us how to love Jesus, Blessed Mother with the love You have for Your Son.
"My little lamb, this is a good prayer. My Mother will teach you in her school of love and holiness. She will provide the necessary graces. Open your heart to Me and to My Holy Spirit, the lover of your soul. Do not fear the events that are coming and those that you already have in view. Trust in Me, My child. I have already seen to everything. I will inspire you and My son (name withheld) regarding what is to be done next. Prepare all that you can now, My child. Soon, it will not be possible. Do not be worried or filled with anxiety. Work at a pace that you can manage. Ask the angels to assist you. Call upon the intercessor of the Saints revealed to you who had special charisms on earth that you will have. My (name withheld) and My (name withheld), you grow weary over things that are not important. Focus on what you know is needed. Focus also on your family. There are several souls in great need of your love, who are far from Me. My son, these need your fatherly love, your compassion and your strength of character. They learn more from you by watching you and being near you. Do not be distant from them because they do not share your faith, but draw them ever closer for that very reason. Love them, My son. Be grandfather and spiritual father to them. One day, as a result they will share your faith. Befriend them as a good and holy father. I will assist you. The world lacks holy fathers. You will be spiritual father to many and (name withheld) will be a spiritual mother. Begin now with your own family as they need to be in the 'ark' soon. Pray for them. Have Masses said for them, especially for the unbaptized in your family. All will be well. Begin each day in prayer as I have asked. You are the spiritual leader of your family. This is a big responsibility and I am counting on you, My faithful friend."
"My (name withheld), My (name withheld), I love you and I am with you. Pray together for the strength, the protection and the mercy needed in these days and in the days ahead."
"I bless you in the name of My Father, in My name and in the name of My Holy Spirit. Go in peace, in love and in the mercy of God. Share this love of God with others. All will be well. Let us begin anew."
Thank You and praise You, Lord! Jesus, I meant to tell you that (names withheld) send their greetings. (Name withheld) is very grateful for the blessing of friends and she thanks You. I know You don't need me to tell You this as You already know, but she asked. Also (name withheld) asked for Your direction. Lord, she has many sorrows and trials. Be close to her and reassure her with peace and a spirit of gratitude, Jesus. She has many concerns (valid ones) and is in need of Your assistance and intervention. Thank You, my Lord and my God. I love You.
"I take these intentions and accept each one into the chambers of My heart, that beats for love of My children. What is needed is trust and more love for God. Seek first the Kingdom, My children and all these things and many more will I give to you. Trust, My children. Do not fear. Fear does not come from Me (or from anyone in Heaven). Therefore, do not fear but instead trust. Ask Me for more trust, more peace, more graces for mercy and I will give these to you beyond measure. I love you, My child. Go now in My peace."
Amen! Alleluia! Praise be to God the Almighty Father and Creator of Heaven and Earth. Thank You, Lord.