Monday, January 18, 2021
The evil network of the devil!
- Message No. 1273 -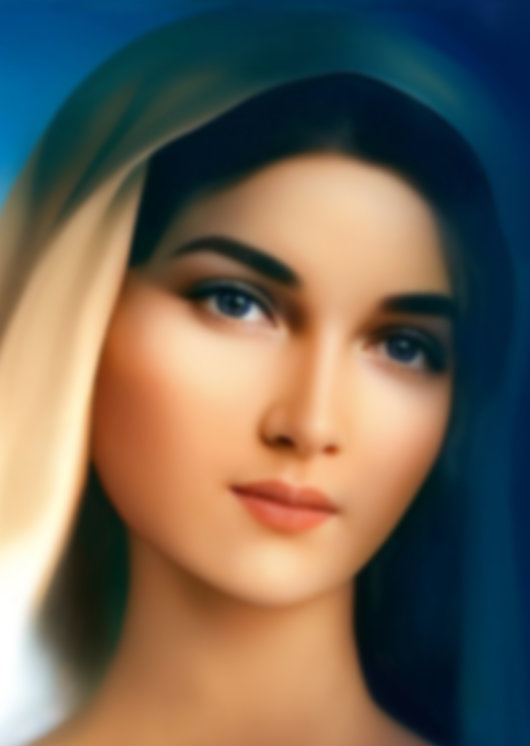 My child. My dear child. The time is heavy and deceptive. Much corruption is in your world. The evil network of the devil is expanding more and more, more and more, but it will be torn apart, like the spider's web of a spider lulling itself to safety, lying in wait for its prey, lulling it once it has entered its web and become entangled, and then finally 'consuming' it.
Imagine, beloved children that you are, the devil in the same way: He spreads his nets and many children get caught. Maybe they don't mean to, but the more they struggle, the more they get caught. They did not recognize the danger in time, and now they can no longer free themselves by their own strength. But, beloved children that you are, God, your heavenly Father, can FREE YOU FROM EVERY SITUATION, no matter how muddled it is, no matter how hopeless! That is why your repentance is so important! You must repent and trust in Jesus! There is no other way to free yourself from the clutches of the evil one! You must repent and admit your guilt, your mistakes! You have the choice: eternal damnation or the mercy of My Son, who forgives everything you have done and/or omitted, if you confess, atone and sincerely repent!
Children, there is little time left for you! Wake up and do not allow the evil one to hold you under his spell! What do you have to lose? Your reputation? Your life of luxury? The shine and the glamor with which the devil blinds you, and which will soon, very soon, give way? You do not believe it, but it will be as I, your Mother in Heaven, tell you today:
The days of evil are numbered, and blessed is he who confesses My Son in time and HAS LEAVED EVIL! You cannot serve two masters! So decide! Jesus, My most holy Son IS love itself, but the devil stirs up hatred and envy, and fornication and corruption he brings, because: he does not know love!
So decide, beloved children that you are. The great warning is at hand, and he who chooses the wicked one will be lost forever. But whoever converts, whoever gives his ever-repeated YES to Jesus, be told: the New Kingdom of My Son will be his inheritance, and his heart and soul will rejoice. He will be free, and he will be happy, and no more evil will befall him, for HIS kingdom will last 1000 years, and peace will be in it and in the hearts of its inhabitants. It will be a time of bliss, and everyone will be filled with divine love of My Son. He will lack nothing, and he will be happy, peaceful and satisfied. It is a time of absolute divine bliss, and you cannot measure today how fulfilled and happy you will be. But you must stand firm, beloved children that you are, and YOU MUST NOT ACCEPT THE SIGN OF THE BEAST. Whoever does so closes the gates to the New Kingdom and will be lost to the devil.
Whoever does not believe in hell, or whoever thinks that hell is already here on earth, let it be said to him also: You will perish and be lost in your misbelief! You will be exposed to the devil and his demons for an eternity, and they will torment you and take pleasure in it! You will have to endure the suffering and torment and agony, and moreover you will know -and this brings you greatest torment of soul- that you should have listened to Me! You will have everything, what you did wrong and thought and decided, CONSCIOUSLY 'BEFORE YOUR EYES', and this will be your greatest torment. In addition, there will be the most terrible torments that the devil will cause you, so I, your loving Mother in Heaven, beg you to convert and find My Son BEFORE IT IS TOO LATE FOR YOU! It is not the time to assert yourself! Amen.
I love you very much, beloved children that you are, and not one child do We, My Son, the Father in Heaven, and I, your loving Mother in Heaven, want to see lost, but be warned, for you do not have much time left! Whoever remains stubborn, whoever believes, lives and thinks for, whoever believes in prestige, power, greed, luxury, 'being cool', etc.-the list is long-be told:
Your hour will have struck soon and then see where it has led you! Whoever does not use the warning as the last act of My Son's mercy and repents will be lost, and My Son will not be able to do anything for him. Whoever does not prepare himself duly for this event, let him also be told:
You will suffer, suffer, suffer, if you have not made your hearts ready! You will suffer, because of your sins, you will suffer, because you did not turn back in time, you will suffer, because you did not listen to Us in these and other messages, and you will suffer, because you followed evil, because you stubbornly persisted in your truth, which has nothing to do with the truth of My Son, and you will suffer, because you were lukewarm!
Many of you will not survive this event. You will not survive it because you did not want to convert and prepare. But the greatest suffering of all will be the absence of God. You will experience -and this word is not strong enough-, you will experience what it is like to be without God the Father, to be without Jesus, an existence without God is complete emptiness, and it will cause you the greatest anguish. You will plead, you will cry out, you will be on your knees pleading to heaven, God the Father may return, Jesus may return, and you will plead that THEY may never leave you again, this will be your conversion, this abandonment will convert many of you!
But not all will do this, and there will be those who will allow even more hatred to enter their hearts and turn against God. I.e. you will need time to 'get your bearings' through this event that will bring your world to a standstill, for you will all experience it at the same time. The division will be great, for now there is the good(/s) and the bad(/s). But the evil one does not sleep:
His Antichrist will be presented to you as Savior. His reign will be the worst of all times, but, beloved children that you are, do not be deceived by him, and remain faithful to Jesus! MY SON WILL NOT Dwell UNDER YOU, but HE WILL COME, and HE WILL deliver His faithful children from the tyranny of His hypocritical and lying and charismatically difficult to resist adversary.
You will be lifted up, beloved children that you are, and the reign of the Antichrist will find its end through the Father's intervention. When, only the Father himself knows! How long? Only the Father in heaven knows that, too. But, beloved children that you are, the end times will be mitigated and shortened by the prayers of all of you!
Therefore, pray, pray, pray! Pray much and pray fervently! Beg to the Father in heaven for mitigation and shortening of the time! Pray to Jesus that He may take care of you! Your prayers do so much good! Your prayer is powerful! It keeps you in faith, gives you perseverance, and it changes! It brings you closer and closer to Jesus! It is the greatest weapon you have, because the devil cannot fight against prayer.
So pray and trust in Jesus, My Son who loves you so much. Pray to the Holy Spirit, He may give you clarity and keep you from confusion and going astray! Do this daily! The devil is a confuser, but if you pray, remain in prayer, you will remain protected.
Trust in My Son, in your Jesus, and plead to the Father in Heaven! Recognize the lies that are being presented to you more and more, and stay away from your mainstream media coverage! You are being lied to and deceived, so stay vigilant and find Jesus whole in prayer.
I love you very much. Soon, very soon, Jesus will save you, but the time that remains, YOU MUST STAY STRONG AND GROW!
Do not accept anything that the devil offers you, and always remain in prayer. Have courage, beloved children that you are. The first signs will soon be visible. Amen.
In deep love, and with Jesus and God the Father, the holy angelic hosts and many saints present here, I take My leave today with the request to ALWAYS remain faithful to My Son.
Your Mother in Heaven.
Mother of all God's children and Mother of Salvation. Amen.
'Do not sin, beloved children that you are, by instilling 'evil' in others who trust you! You will have to answer for your deeds! So remain vigilant and neither receive from evil, nor pass it on! Amen.'