Sunday, March 6, 2022
Adoration Chapel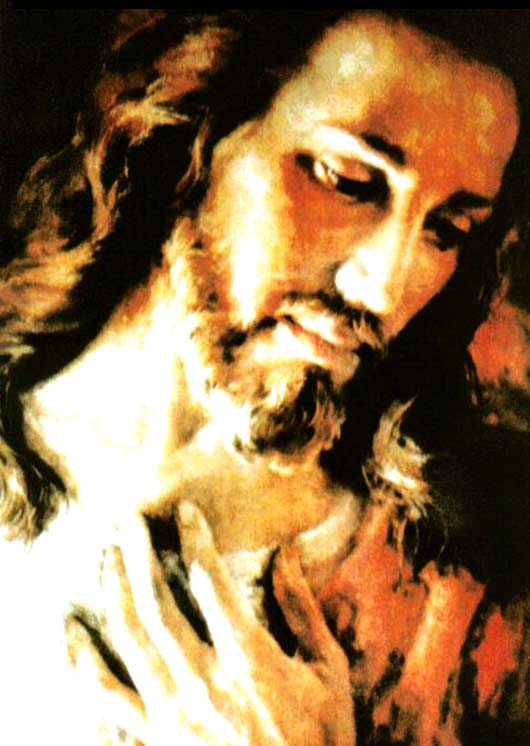 Hello my beloved Jesus ever present in the Most Holy Eucharist, my Sweet Savior hidden in the host. You humble Yourself my God to be present to Your people as You promised us, Your Church. Thank You for the extreme sacrifice that You paid with Your life so that we could gain salvation of our souls by the shedding of Your blood during Your passion and death. Thank You Divine Savior, God and Man. I love You. Who can ever fathom the depths of Your love? Who will ever understand the wealth, the riches and graces flowing from a small, white consecrated host. Oh, my beloved, Who is also my God, make my heart a flame of pure love for Thee. Lord, I place before You all those in need of prayer, all who are ill and especially those souls who are far from You and outside of Your Holy Will. Draw them close to Your heart and press them to Your sacred, suffering heart that beats with such fervor for love of souls. Lord, do Your Will in their lives so they will learn the beauty and goodness of God, and so they will have hope and faith restored and burning brightly in their lives. Make us a holy peoples, Jesus; the people of the Living God. Bring about Your Kingdom, Father and may Your Will be done on the earth as it is in Heaven. Lead us, Blessed Mother into the Age of Obedience to the Father and the Era of Peace. Thank You for Your love, dearest Mother of the human race. Thank You for interceding for us before the Father. Lord, Jesus thank You that You share Your most holy, Immaculate Mother with us. I pray You to move Pope Francis to perform the Consecration of Russia to the Immaculate Heart of Mary exactly and precisely as She requested so long ago in Fatima. Please, Lord. Only You can do this. He will listen to You. Our lives and the lives of countless souls depend upon this one act of faith and obedience. Look, Lord at the numerous lives already snuffed out like candles that no longer burn with the fire of Your love, due to evil men serving the enemy of love and life, and who worshipped the beast. Lord, You are the giver of life. Move Pope Francis to operate according to Your Will and consecrate Russia to the Immaculate Heart of Your beautiful, holy and pure Mother. You will have mercy on the world beyond what we can even imagine when this prayer has been made as Our Lady requested. Thank You, Lord for Your burning and constant desire to save souls. Give us, Your Children of Light this fervor, also. Increase our prayers, our acts done with love for the Father and our penances and small sacrifices especially during this special Lenten Season. Lord, we don't know how many days remain in freedom to publicly worship You and receive You in Holy Communion. Pour out Your Spirit, Lord and convert all hearts to You. Praise You Holy Lamb of God who takes away the sins of the world. Wash us in the blood of the lamb.
"My child, My child, My little one, thank you for your prayers and the longing in your heart for all to know and love Me. My child, thank you also for writing today. I know you did not want to do so, but by asking Me what I wanted you have acquiesced your will in favor of Mine. Yes, My little one you were reminded by your Guardian Angel to ask Me, instead of continuing the prayers you wanted to pray. These are good and holy prayers. These are efficacious prayers, but today and now is the time for what I will say to you for the benefit of many souls. Once this time passes for you, it is in the past and cannot be repeated or substituted later. Yes, I am outside of time and I could do this for you, but you are subject to the laws of time, My daughter. Therefore, the graces I give you now are not those I will give you later. Your nature is as it is at the present moment, also. Your receptivity is unique at this time, and it will be different later. This is so because you are growing and changing. Your priest explained this to you yesterday during Confession. What he told you is true, My child and his words were My words. Do you recall this?"
Yes, Lord. I do now that You reminded me. Thank You, Lord. This instruction from Father was different than any other time I've been to Confession with him as my confessor. I wondered about this and I accept all that he told me even though it was so very merciful of You and almost too good to believe. If it wasn't for Your adorable, beautiful way, I would have dismissed it altogether.
"My child, you would not have dismissed it for you are aware of the graces of this holy Sacrament, but in your humility, you would not have accepted these words as applying directly to your soul. My child, this concept of growing in holiness applies to all souls when they are progressing in holiness but it was meant personally and specifically to the situation you described to my holy son, (Father's name withheld). Accept this, My child and learn from these words. You are learning more with each passing day. Continue on this path, My child that you and My son (name withheld) are walking. I walk with and through you as do my Mother and Saint Joseph. Be ever more united to Me in and through My Divine Will, My children. This gives great glory to the Father and will aid in bringing about His Kingdom on earth. It begins first in your hearts."
Thank You, Blessed Trinity, Father, Son and Holy Spirit. We love You and want to love You more and more.
"My (name withheld) and My (name withheld), I am preparing you for what is to come. You accept this suffering time for what it is, a preparation. Do not be concerned, for I have not forgotten you or removed My blessing from you. On the contrary, I desire to transform you into My image in an even closer resemblance to Me. Yes, all are made in God's image and likeness but many souls choose to tarnish this image and to be more like the image of the world and the one who is in the world and less like the Creator of the world. It is My desire that all of My creatures strive to live in the dignity and grace of children of God rather than children of darkness. You, My beloved followers are Children of Light and thus you must become more and more like the Light of Christ, and more like My Mother and St. Joseph. They pray for you, as do all the heavenlies, those who live in Heaven. Do all that I have asked, My Children of Light and soon My light will overshadow the darkness. There is a great deal of darkness, My children and only I living within you can overcome this darkness. You will do so as You become transformed into My Mother's army who will conquer the enemy by your love, your prayers and by humility. Be humble as My Mother is humble. In this way, your hearts will be more like hers and you will be receptive and well disposed to the graces I am already sending you. I shower My children with many graces because My heart is unable to contain the love I have for you. How many go unused by souls because you are not praying, and are not frequenting the Sacraments, studying My Holy Word, so you are not receptive. The soil of your hearts is not fertile, My children if you neglect the spiritual nourishment needed. Do not deprive yourselves of this nourishment or you will surely be underdeveloped. It will be just as if you deprived your bodies of adequate nutrition, My children. You would starve for lack of nutrition, but you do not realize your souls are starving. Be aware that I created you as people with souls as well as a body. You are one integrated human being and as such you need to feed your body and your soul. This should not be new information to you, and yet many of My children do not live as though these are truths. Pay as much, if not more attention to your souls as you do your bodies, My children. I care about both aspects of your persons. Do not neglect your spiritual needs. Pray, fast, read Holy Scripture and frequent the Sacraments. Love your neighbor as yourself and you will grow in the wisdom and knowledge and love of God. It will be so because I Will it. My children of these days, remember I also am concerned for your bodies, but not in the same way you are. Today, people glorify their bodies and focus too much on the outward temple, but have not provided all that is needed for the inside. Do not worship your body that is constantly changing and in the process of dying. Focus more on your souls that will live forever after your body is no longer alive. I will see to both and you must do the same. This is the Age of Disobedience to God and consequently even My Children of Light can easily become tainted by promises (false) of riches, beauty, living forever on earth (never dying) and other temptations from My adversary. You, My children will do well to balance both in a healthy and Godly way. Nourish the body which houses your soul and in which your soul occupies and nourish your soul with the eternal bread of life. Pray, My children. Pray for souls, pray for your country and pray for the world. Much prayer is needed."
"My child, this is all for now. Please visit with Me again this week. I have more I want to tell you for My Children of Light. For now, you have others who need you. It is My Will that you help them. The love you are demonstrating through great sacrifice of your own will and that of My son, (name withheld) [his sacrifice] is planting many seeds, My child. Trust Me that these seeds will be watered and will take root in (name withheld) heart. Though she does not seem to believe, there is a very small flame of faith. The love of her family, the believers will blow oxygen on these warm embers and one day her faith in Me and in My Church will become inflamed. Surrender all to Me, My little lamb. Your Jesus is working through you even if it is undetectable by you."
"I bless you and My son (name withheld) in the name of the Father, in My name and in the name of My Holy Spirit. Go in peace, My children to love, to serve and to be the mercy of God to others."
Thank You, my Lord, my God and my King! I love You, Lord. Amen! Alleluia.