Sunday, February 27, 2022
Adoration Chapel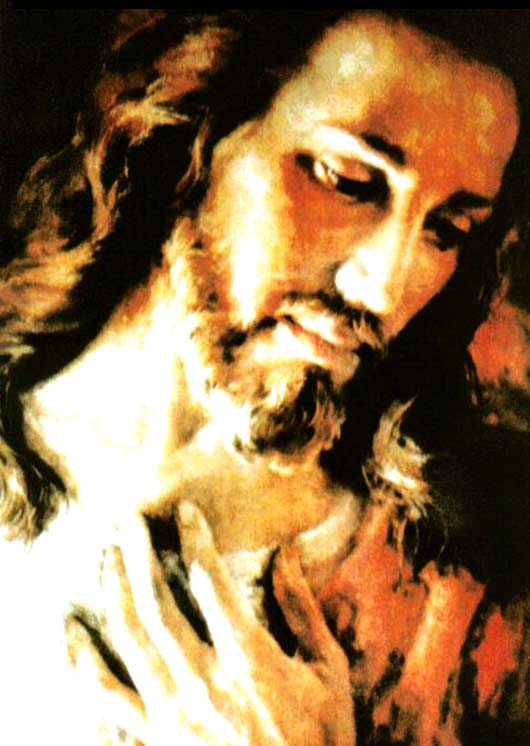 Hello, Jesus ever present in the Most Blessed Sacrament of the Altar. It is a great blessing to be here with You, my Lord and my God. Thank You for Holy Mass and Holy Communion yesterday and today. What a great joy to receive You in the Eucharist. Praise and thank You Lord for all You went through to give us this precious Sacrament. Oh, Sacrament Most Holy, Oh Sacrament Divine; all praise and all thanksgiving be every moment Thine. Lord, there is much unrest in the world and now war. Oh, Jesus, I pray You will move Pope Francis' heart in a miraculous way to decide to do as Our Blessed Mother asked at Fatima and consecrate Russia to the Immaculate Heart of Mary. Lord, I don't understand why it was not done and even more curious why our beloved Pope St. John Paul II did not do the consecration, either. Sometimes I think if he didn't, no one will since he so loved the most pure holy Mother of God. He even credited Her with saving his life. Lord, regardless, I pray that through this most recent calamity and tragedy, Pope Francis' heart will be moved and he will make the waited for and long prayed for the consecration of Russia. Then, we will experience real and lasting peace, just as Our Lady said. Then, Her Immaculate Heart will triumph over sin and darkness and the earth will truly know the peace of Christ. Oh, Jesus move him to do this. Please God!
"My child, My child, many prayers are needed to answer this request and this is a bleak time, for mankind's hearts have grown cold and hard as stone. There are not enough of My children praying, My child and even fewer who pray for this intention. My children must awaken. The scales must be removed from their eyes. Countless people do not even know about My Mother and the plan I have for Her, let alone the great role She has in bringing Me into the world. Her prayers alone hastened My coming. My children do not even listen to Her and My children know Me!"
Yes, Lord but if the Blessed Mother's prayers alone hastened Her coming, can Her prayers move the heart of the Pope to make the consecration of Russia to Her heart? Blessed Mother, please pray hard and intercede for your poor children on earth for we will be unable to withstand so much violence in these days of nuclear weapons and biological warfare. Oh, purest Mother, Mother of the entire human race, because God Wills Your maternal role, please ask God the Father for this consecration and may it be done, soon. Blessed Mother, you are in the center of the very Will of God. He will do as You request, but please request this soon, dearest Mother. Yes, it would be a miracle, but it is not too much to ask, especially since God wants this. I sense a great silence on your part, Mother Mary. I am sure you have requested this many times, perhaps even prior to the request at Fatima but Mother, we need this to prevent a full scale war upon the earth (WW3). Doesn't Pope Francis see this? If not, please open his eyes and his heart soon, Lord.
"My little one, more prayers are needed. I have asked My people to pray more Rosaries and Divine Mercy Chaplets, to participate in Holy Mass, receive Me frequently in Holy Communion, to repent, go to Confession and change their ways to walk in My ways, and this goes unheeded—even by My Children of Light. This must occur. My children are also in need of conversion. Make this Lenten Season the best one in your lives, My children. Fast, pray, frequent the Sacraments and observe the precepts. Do as I ask. Pray from your hearts, My children. Be love and mercy to others. Do not be like those who say, 'I don't know anyone in Ukraine. It is far from my home. What does war in that part of the world matter to me?' Do not think this way, My children. This is blindness and it is irrational for a Christian to think this. You are all brothers and sisters. This distance is not at issue. To God, how far do you think another country is—one from the other? It is like another neighborhood in the same town, My children. It is even as close as your next-door neighbor to Me. They are My children, also. They matter to Me and to all of Heaven. You must be like Me and realize each person's life matters. If you do not think this way you must really question whether you are a true Christian or one in name only. Reflect on this and examine yourselves."
"My child, My child, you plead with me to stop this war and My heart is moved, My child. My children have been told how to stop wars. My Mother explained this at Fatima and at other apparition sites when She explained the prayer of the Rosary from the heart can stop wars. My children, you must finally realize it is through this prayer that wars will stop. Spread the word to everyone you know and to those you don't know that a Rosary crusade throughout the world is needed now. Do this all of My Children of Light. Organize yourselves and pray for the Consecration of Russia. My child, you must get this message out as soon as possible. My invitations, My direction, My Mother's requests all over the world go largely unheeded. Oh, what will it take, My people to listen to Heaven, to God Himself, and do as we ask for your own good. You act like little disobedient children who want only candy to eat and no nourishing foods and when they are told 'no' stomp their feet and throw a tempter tantrum to get another piece of candy. You must grow up now My children and begin to trust the wisdom of God, your Father. The nourishment is the Eucharist and the prayer of the Rosary properly disposes you to the wisdom of God. I take up residence in you during Holy Communion and I want to bestow many graces and much wisdom on you, but you go about your busy lives from one event to the next leaving yourselves no time to pray. Prayer is a necessity, My children. It should not be an afterthought, but rather the first thing you do in the morning and the last thing you do in the evening before retiring to bed. It is not too much to ask of you MY children, to pray the Rosary only two times per day. If you will not do so, those who love Me, who will? This is the problem, My children. You begin for a while, then revert to your former ways. Where is your trust in Me? Where is your love? Why do you allow your love to grow cold, My children? Meditate on My passion and death and you will see the great price I paid for you to have eternal life, to have the Sacraments, the Church, your family in Heaven. What little I ask of you and what little My Mother asks and yet you think it is too much. If you were being threatened with war on your borders, you would pray, would you not? Of course you would. Why will you not pray now so this doesn't happen? Why will you not pray for the Ukrainian people and all others who are victims of war and violence? My children, examine yourselves and your priorities. What more could you be doing for your Jesus who loves you? Ask Me and I will show you, My children of Light. Are you striving to do the Will of God? Are you asking for this great gift in your lives? Do you want to live My Divine Will? Do you want to live lives of holiness? Are you loving everyone around you and especially your family to the best of your ability? Are you demonstrating your love for God, by loving your neighbor? Do your children know you by your love? Reflect on these questions in prayer and ask Me for guidance. I will help you, My children. You must decide for God now, My children. You must truly live lives of holiness, peace, mercy and love. Soon, there will be no more time to waste and soon a decision will be made. No decision is the same as deciding for evil, My children. Follow Me. Take you your cross and follow Me. Offer the small inconveniences in life to Me, united on My cross. Cease grumbling and instead praise God for everything comes from the Will of God, except evil. Pray, pray, pray My children. Pray now while you still can pray."
Thank You, Jesus. Help us, Lord to do all that You ask. Forgive us for our complacency. Forgive me for the times I could have been praying but was doing something else of no value. Help me to realize and to be aware of the urgency of our times and your beautiful and simple requests to pray the Rosary and Divine Mercy Chaplet every day (at least two times) and to change my behavior and my way of thinking to rightly order my priorities in union with Your Will. Save us Savior of the world for by Your cross and resurrection, You have set us free. You are the Savior of the World. Praise You, my Lord and my God. I love You!
"And I love you. That is all for now, My little lamb. I bless you and My son (name withheld) in the name of My Father, in My name and in the name of My Holy Spirit. Go in peace. Offer your suffering and your sacrifices to Me for peace in the world. May this be your Lenten focus; and end to all violence, peace, and the Consecration of Russia to My Mother's Immaculate Heart. Go in My love, My children."
Thank You, Lord. Amen!