Sunday, December 1, 2019
Adoration Chapel – First Sunday of Advent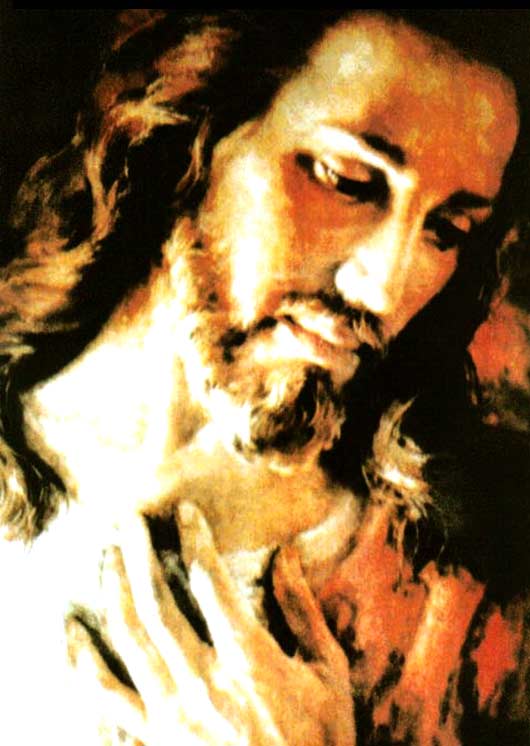 Hello my dearest Jesus, ever present in the most Blessed Sacrament of the Altar. I praise You, adore You, love You and trust You, my Lord, God and King! Thank You for Holy Mass and Communion, Jesus. Thank you for Confession, Lord and for all the Sacraments.
Jesus, I am so very grateful for Your coming into the world at Bethlehem. I am also grateful for Your coming into the world in each and every holy Mass and for Your presence in all tabernacles in the world. I can't fathom Your power in Your Eucharistic presence and yet, also Your great humility; that You came as an infant and You come and transform simple bread and wine into Your Body, Blood, Soul and Divinity. You are amazing Lord! Glory, honor and praise to You Lord Jesus Christ, Son of God and Son of Man. Thank You that You care intimately for our souls and for our welfare. Praise You my Lord and my God!
Lord, I lift all of my concerns to You for my children and grandchildren and all of my family. I pray for conversion in each one of our souls, most especially for those who are apart from Your Holy Catholic and Apostolic Church, but also for those who do not believe and have not experienced the love of God. Make Yourself known to them, Jesus and please do so for many souls prior to the Illumination of Conscience.
Lord, I pray for the priests who will be flooded with people who need their confessions to be heard and for the many baptisms and all sacraments people will need. Help the priests, Lord to be good, patient pastors and shepherds. I pray for those priests who may need their own conversions, Lord that this will occur earlier so they are ready for all who come to them. Thank You for Your great mercy Lord for choosing to grant/bestow Your mercy in a special way in these days so all will know that You are the Son of God. May they all rely on Your precious gift of mercy and trust in You. Lord, there are many people I have not evangelized that I should have. Forgive me, Lord for the times I have failed You or disappointed You. Help me to do Your holy Will and to be emboldened by the power of Your Holy Spirit, our Lady's flame of love. You, Lord have every grace needed to reach souls for You, Lord. Jesus, I trust in You. Jesus, I trust in You. Jesus, I trust in You.
"My daughter, you are concerned about many things, especially for your loved ones. I, also share your concern for souls. I died to save them, My child so do not be anxious, but trust in My saving power and in My love. Pray and offer masses for them. I will work wonders in their hearts. This is a time of great mercy, and I flood the world with graces on account of the immense darkness, and due to the late hour. I forgive you, My little one for any time you failed to love as I desire. Contrition is good, My little lamb, but now you must look ahead to what I need from you in this hour. Do not give way to the temptation to look back with regret, My child. Once I have forgiven, look forward. You must live in the present moment, for humans living on earth are constrained to the present. You cannot physically go back, nor can you physically go into the future. God has made human beings to live in the now. This means you have access to every grace I give you now. What is needed later, in the future will be given when it is needed."
"My child, I am God and I can go into any area of your life, past, present and future and I can heal you of your past sins. I can enlighten you about what is to come, and I can walk with you on your present journey. Mankind suffers from wanting to relive the past and constantly plan for the future, but does not realize that today is what I am giving each one and there is no guarantee of tomorrow. At any time, one could die and stand before God for judgement. Therefore, live today to its full. Seek the Sacraments, My children today. If you have not been to Confession for years, come now, My children. You must begin now and not procrastinate. You do not know the day nor the hour, My children. If you are concerned for your soul come immediately. If you are not concerned for your soul, come immediately, also. Each person alive should be concerned for their soul and if you are not, that is a problem. Many people have come to accept sin in their lives and have believed the lie told by My Adversary that there is no such thig as sin. Do not believe the great deceiver. Listen to Me, the Way, the Truth and the Light. So, whether you are concerned for your soul or not, come to Me in the Sacrament of Confession where healing can begin and My forgiveness granted. Then, remain in a state of grace so that you can walk closely with Me and one day enter the Heavenly Kingdom. Until then, I want My Kingdom to reign in your hearts. I want to be united with souls who love Me and who desire My friendship. I desire this for all souls even and especially so for souls who reject Me and who reject My love. I long to be close to You, even though you do not want this for yourselves. This is because I love you much more than you love yourselves. I am all love and all love is Me. I am God, the creator of all mankind. I created you for love. Come, follow Me, My children."
"I realize life has been difficult and in some cases it has been unbearable. But, you have been able to bear it, because I have helped you. You may not believe this, but if you are honest and take time to reflect, you will begin to remember occasions where others have helped, encouraged or supported you in one way or another. At times, it was a stranger who assisted you, and at times someone you knew from school perhaps a teacher, or someone at work, or in your neighborhood. These people came to your assistance because they were prompted by My Holy Spirit of love. Yes, My poor children who feel alone and unloved, I have prompted people to reach out to you, to assist you, and to give, in some cases out of their own need. This is because of My love. I have been near you all along, My children. Think about this and you will see it is true. Knowing this means you can begin to trust in Me more and more each day. Speak with Me. I await you. I love you and My mercy is just for you. Do not be afraid. I will not reject you. You have faced rejection from many people who were supposed to love you. My love is unlimited and unconditional. This means I already love you. There is no need to prove yourself in any way. There is no need to win My love. I - love - you! I love you now, even though you are not ready to love Me, and even if you have not decided to follow Me. I love you. Come to Me. Speak to Me. Give Me the burdens and concerns of your heart. Speak to Me about your fears, your joys, your life. I care about all that you are concerned about and all you have been through. I love you. Open your heart to the love I have for you and your life will begin anew. Come, let us begin together."
Thank You for Your tremendous love and mercy, Lord. Thank You for loving us and accepting us as we grow in our knowledge of You, Jesus. Thank You for loving us even when our lives are steeped in the mire of sin. Purify our hearts, Lord so that we may draw close to Your Sacred Heart.
"My little lamb, trust in Me and all I have asked of you. You do not understand why I have asked you to do certain things, but I ask only for your well-being or the well-being of others. Thank You for doing all I have requested of You. I am grateful to You and to My son, (name withheld) and to all who listen and do as I ask, even when it doesn't seem to make sense. Trust in Me for all things. I am preparing you and I provide for you. Trust in Me. All will be well."
Yes, Lord. I forgot to pray for some friends of mine who are very ill. I lift them up to You now, Jesus. I pray for (names withheld) and for all who are recovering from surgery. Thank You, Lord for hearing my prayers.
"Yes, My little lamb. Thank you for your love and concern for others. My Mother will guide and assist you with the preparations. All will be as I desire, My child. Pray for My son who will come to your area. Pray for his protection and safety."
Yes, Jesus. We will pray.
"My child, I bless you in the name of my Father, in My name and in the name of My Holy Spirit. Go in My peace, in My joy, and in My love. Be of good cheer for love of Me and the Trinity. All will be well. All will be well."
Amen, Lord. Thank you, Jesus! I love You!
"And I love you."