Sunday, August 19, 2018
Adoration Chapel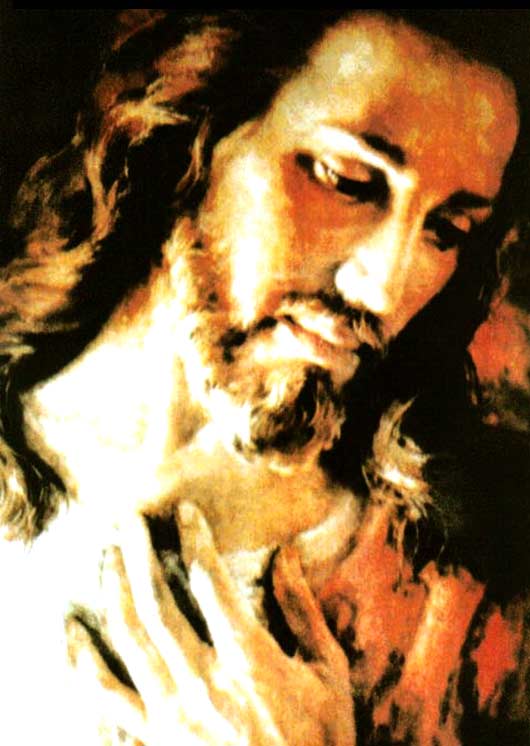 Hello, Jesus ever present in the Most Blessed Sacrament of the Altar. I believe in You, adore You and praise You, my God and my King. I love You, Jesus. It is so very good to be here with You. Thank You for Holy Mass and Communion. Lord, please bless (name withheld). Thank You for sending him to us. Protect him, Lord as well as (name withheld) and all Your holy priest sons. Bless and protect all Bishops and our Holy Father as well as all Religious. Thank You for their witness. Bless all marriages too, Jesus and help us to be witnesses to the world of Your love. Glory and praise to You, my Lord and my God.
Lord, thank You for helping (name withheld). I am thankful that she received some encouraging news from the physician. Please heal her. Help her to recover. Console her as she undergoes treatments, as she is suffering much. I also pray for (name withheld), Jesus. Heal him of (condition withheld). Calm him Lord just as You calmed the storm when You were in the boat with the Apostles. Lord, You can do all things. Heal (name withheld). Lord, Jesus please give graces for conversion to all those who do not know the love of God. Help them come to know and love You. Bring those who have left Your Holy Catholic Church home. I pray especially for (names withheld) and for those who are outside the faith. Blessed Mother may Your Immaculate Heart triumph soon. Holy Spirit, come and renew the face of the earth. Cleanse and purify the earth, Lord. Restore our relationship to You and bring everything into right order. We need You, Jesus. We are desperate for You to rescue us from ourselves. The world has become a dark place with little faith and yet there are still many who love You and believe in You.
Lord, protect the little children from the sinful culture. Protect their innocence. Protect them from abusive relationships. Lord, I am very concerned for the holy innocents. Jesus, please bind our children and grandchildren to Your most holy and pure Mother. We consecrate our homes and our family to Her. Thank You for sending me holy friends, Jesus. Help me to be a faithful friend, mother, spouse and sister. Bless those with whom I work, Lord. Jesus, You said to bring all of my concerns to You and all of my friends and loved ones. Jesus, I bring them to You and lay them at Your feet. I pray for the elderly, the preborn and all who are considering abortion or euthanasia. Give them the grace to see and to know that all life is precious, Lord because life comes from You and we are made in Your image and likeness. May Your Will be done, Father, on earth as in Heaven and may we live as if we were living in Heaven now. I love You, Jesus. Help me to love you more. Jesus, please bless and protect our President and Vice President. Protect their families from all evil. Give the President wisdom and right judgement. Guide him with Your Holy Spirit to be a holy man. Convert him to the Catholic faith, Jesus. Lord, sin is rampant and I pray that You intervene soon out of Your great mercy. Save us, Lord, from these dark days. Fill us with the light of Your love. All is peaceful and beautiful in this Adoration Chapel because You are near, You are present. How I wish the entire world was like this, Lord.
Lord, I just remembered that I told (name withheld) I would pray for her, too. She is miserable, Jesus as You know. Please heal her, Jesus. I also pray for (name withheld) that she will continue to be well so that she can have surgery. Help her to have a smooth recovery. Bless (name withheld) as he begins his Freshman year in college. I pray also for all who will begin school, Lord and for the younger students who have already started the school year. Keep them safe, Jesus. Lord, I am very concerned about everyone who is suffering so. Forgive me for my long list of requests. There is much need.
"Yes, My child. There are many needs. You are correct to bring all to Me, My child for only I can help. You are doing just what I advised you to do; to bring all concerns and burdens to Me. I am patient with your requests because I love you and I love all My children. I am glad that you desire to pray for their needs. My child, I never tire of hearing My children's requests, made from a heart of love. This is what I desire, that all of My children love one another."
"My little one, what you were lamenting to Me earlier today, about the state of the world and specifically, the state of souls is true. You are right to be concerned. As I have told you many times, souls are in peril. They have placed themselves in a dangerous place, by following the evil one's plans. His plans are for the spiritual demise of My children. My plans are for My children's spiritual welfare. His plans are motivated from hatred. My plans from love. I have sent My Mother to reach the souls of My children, Her children, so they will repent and convert before it is too late for them. Few listen to Her. The time of Her coming to the world to bring the Gospel message of love will soon end. Too few pay attention to Her and therefore the time of My justice is close at hand. In the time that is remaining, My children must pray more for souls in need and without faith in God. Sin has blinded them to the reality of God and they fall farther and farther away from the One who loves them. The farther man falls into sin, the more blind they become. They lose the protection of the Almighty and they are given up to their stubborn and prideful free wills, no longer aware of just how perverse and evil they have become. Their souls become almost as dark as night, for they have extinguished the light of My grace and the light of My love. Poor sinful, stubborn, prideful mankind, you no longer recognize God for you have blotted all signs of hope, love, joy, peace and piety from your hearts and minds. Your souls have become putrid from the evil that rots from the inside out. Only I can purge this infection from you. Children, pray for the lost souls who follow evil. Pray, do penance for them and fast. Many will fall into the eternal fires of hell. Some can still be rescued, but your prayers, your sacrifices are needed. Pray for your brothers and sisters, My children. If only you knew how much My Sacred Heart grieves for My lost children, you would pray. I love each soul and desire all to choose My Will, My love and to follow Me into My Kingdom. Come to Adore Me, My children. Soothe My Sacred Heart and My Mother's Immaculate Heart which is consumed with sorrow for Her lost children."
"My little lamb, I give you My peace. I give you the gift of trust and confidence in Me. When the day of destruction comes, and many are confused and filled with fear and terror, I will give you peace and clarity of mind and heart. Do not be concerned, My child, I am and will be with you. All will be well. I will guide you in what you are to do. The needs will be emergent. There will be much chaos. You and your family are to remain at peace, securely in the refuge of My Sacred Heart. You will be shielded from much of the damage. I say, much of the damage, because though you will be protected, you must reach out to those who are injured, lost and afraid. Be another Jesus, another Mary to all in need. I will give you the strength, the peace, the wisdom, the ability to know what it is each one needs. I will work through you. Love each one I send to you as if they were your own children, your own brothers and sisters, as if they were Me, My children, for all are My children. I love each one, and so must you. I have prepared your hearts to love. I have prepared your hearts to forgive. I have taught you what it is like to lose much, to be on the brink of losing everything, but by trusting in Me completely, you gained hearts of love and forgiveness. You grew in trust and confidence in Me. My children, you must put all of these gifts to use now to help your brothers and sisters who will be in dire need. First, they will have physical and emotional needs and these must be tended to first. Patience, love, awareness, discernment can only exist in hearts prepared through and by much prayer. This is why you must pray and increase your prayer. The time will come when these prayers will need to carry you into My very heart in order for you to help the others. Listen now while there is order to your day. Listen to My Heart beating now while you have moments of quiet and solitude. Soon there will be little time for solitude. I must continue to make the soil of your hearts fertile so that through the trials, you will bear fruit for My Kingdom. Do not fear, but only trust. I am with you. You have no need to fear when your God is with you. You are in Me and I am in you and therefore I will work and love through you."
"My children, things will not be as you thought or as you imagined. Do not look to the past or to the future that you wanted, only look to Me. I am your present. I will be there for you in the future. Set aside all fear abut yourselves, your friends and loved ones and realize that I love each one with a far greater love than you and so I will provide. Recall what I told you awaits you in the Renewal. Recall how beautiful the world will be in the new springtime. That time will come, My children. Much purification is needed to prepare the way. It must be so, My children. Trust in Me. Trust in My Most Holy Mother Mary. Ask for Her intercession and that of the saints. All the heavenlies pray for you and for all souls. Ask them to give you their prayers, their advice. All are brothers and sisters in My Kingdom. You will be united to Heaven one day and you will experience complete total love, complete understanding and complete joy. For now, you are called to love heroically. I have given you many blessings and graces. What you have not received, you will be given when the time comes and you will be given what is needed to minister to those in need. Frequent the Sacraments, My children. Again, I say frequent the Sacraments. Always be prepared for what is to come, for even those who have been given the information of what is coming, will be overwhelmed due to the timing. No one can know what God knows. Man does not have the capacity to know and out of My deep love for you, I spare you the details. You will be given all that is needed. I have every grace to sustain you and I will give these graces freely, My Children of Light. You will see many miracles for I will provide what you do not have. Be at peace. Live your lives in love; in My love. Drink from the water of grace by frequenting the Sacraments. This grace will sustain you, My children through the darkness to come."
Jesus, it is already very dark.
"Yes, My child. Today much sin is done in 'secret' and is not visible (as much) to people. They are not aware (completely) of the evil of the times for they hide their head in the sand. They do not come close to the heart of their Savior and so they remain as if having blinders over their eyes. When the Time of Great Trials, the purification comes to fullness, the reality of darkness will be manifested to even those with their heads in the sand. All will know and there will be many caught unaware. It is for these, I have prepared you. You will also be informed of little children in need and some will come to you in need of shelter. You will do for them all I have instructed. They will need a safe place to live as they recover from the difficulties and the things they have experienced. Be Christ to them, My children, care for them as if they were your own. My little lamb, you will see all the things unfold that I have spoken of with you. You will understand then, more fully, what I have taught you over these years. Be at peace. I have prepared you and your family well. I have prepared many others like you. It had to be so, for My Father is the perfect Father and He provides for His children, even in the midst of such darkness and rebellion. He is love. My child, this is all for now. I have said much and there is much to ponder. Do not dwell on this too much for I desire your peace, your love, your joy. There is joy in knowing and loving your Savior, your God, your friend. There will be joy as you have new souls enter your life. You will give and receive and they will do the same. Have hope. Be hope to others. The winter must come before the springtime. When winter descends upon you, you say, this winter is dark and the days are shorter, colder, difficult, but always there is hope for you know it will not be winter forever. One day, as winter progresses and springtime draws near, the days begin to grow longer, there is more light. The birds begin to sing again, and the snow begins to melt. You know springtime is coming. Keep this is in mind, My children, for just as the seasons change, so will the great darkness that has descended on mankind. The winter will one day give way to the springtime My holy son, your Holy Father Pope John Paul II foretold. It will come to pass, My children. Take heart. All will be well. Let us begin the spiritual preparations needed. Begin right away, My children. Do not waste any time. Make each day count for the Kingdom. I love you. Be at peace. Trust in Me."
Yes, Jesus. Thank You, Jesus. I love You!
"And, I love you, My child."
Amen! Alleluia!
"I bless you in My Father's name, in My name and in the name of My Holy Spirit. Go in My peace. Be peace to others."