Sunday, January 15, 2017
Adoration Chapel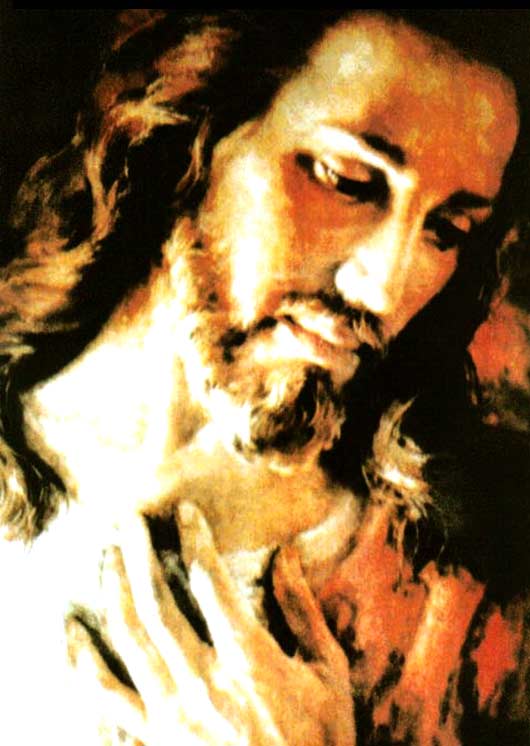 Hello, Jesus ever present in the Blessed Sacrament. I praise You, love You and adore You. Thank You that we can be here with You today. Jesus, help me. (name withheld) is so talkative today. I can't start praying without being obviously rude! Help! Thank You, Jesus!
Lord, thank You for the opportunity to be with (name withheld) yesterday. It was so good to see her and her family. Please help her to recover quickly, Jesus especially since she has to return to work soon. Thank You that the pathology report was negative, Lord. Praise You, Jesus! Thank You for Your many blessings. Jesus, please help (name withheld) financially and help her physically, too Jesus.
Jesus, I give all of my concerns and burdens to You. I surrender myself to You, Lord. Take care of everything. I trust You, Jesus. Lord, my heart feels restless today and I am not recollected. Give me Your peace, Lord Jesus, Prince of Peace. All according to Your Will, Lord.
Jesus, have You anything to say to me today?
"My daughter, you are weary for you are not getting enough rest. Be more rested, My child. Take your rest, My child."
Yes, Jesus. As You say. I have not been going to bed on time. I am sorry, Lord.
"My child, it is good to care for one's physical needs and necessities; not to excess but to get rest at night."
Yes, Lord. Again, I am sorry.
"All is forgiven, My child. Be at peace."
Thank You, Jesus. Lord, please be with (names withheld). Please allow us to visit him while he is still able to speak and recognize us. If it is Your Will, please heal him, Lord. Lord, I bring all those who are ill to You, especially (names withheld) and all those who are on the church's prayer list. Jesus, I also pray for (name withheld) in our prayer group. I hope he is alright. Be with him and all those who are in our prayer group. If it is Your Will, Lord please help our group to grow in number. Thank You for blessing us with such beautiful souls with whom to pray. Thank You, Jesus.
"My child, you have experienced the onslaught of My adversary this week. He has attempted to discourage you on several occasions. You resisted temptation, but have felt downhearted have you not?"
Yes, Jesus. It has been a difficult week. It has been very gray outside (cloudy) but even more so in the spiritual world. I am sorry for disappointing You, Jesus. I didn't recognize what was going on at first. Usually, I see this more quickly. I must have been further away from You, Lord or I might have had Your protection.
"No, My child, this is not so in this case, for I allowed these attacks so that you would learn to recognize them. These were times that you came to Me for help in little ways. Do you recall, My child?"
No, Jesus. I don't think so.
"My little one, you knelt down in front of My image, and another time you were drawn to Me and gazed at My sacred face. You prayed when you felt cold but decided to pray anyway. You came to evening Mass and received Me in the Eucharist. My child, the tempter was very angry when you showed love and reverence to Me in spite of his temptations and accusations. Your guardian angel stood watch over you, ever ready to protect you from real harm. I understand how unpleasant this was for you, but you are becoming more holy with each course of My purification. These times of trial serve to make you stronger, especially when you turn to Me."
But, Jesus I didn't always turn to You. There were times that I was not home in the evening due to being with (name withheld) or having appointments, and I did not pray the rosary with my family. I know I disappointed You, Lord and yet You didn't point these times out to me. You only focused on the few occasions that I was led by Your holy Mother or my angel to do what my soul needed. You neglected to mention the multiple times I listened to the accuser put me down and the times my heart felt numb toward You. I can barely allow myself to think about what a disloyal friend You have in me, Jesus. I am very sorry. Please forgive me and help me, Lord. Life is so dark without You. Please do not be so distant from me, or rather do not allow me to be distant from You.
"My child, I do not need to point out times that you think you failed me, for you do a splendid job of this. What I aim to do is to show you the times you did exactly what your soul needed, for it is this I want you to remember for the next time. There will surely be a next time, you are thinking, and you are correct for My goal for you is holiness. Holiness is a choice, My child. In order for something to be a choice, there must be something else offered as an option. In life, there is holiness and unholiness. There is a choice between good and evil. There is a choice for life or for death, (eternal life or eternal death). These sound drastic to you, My little lamb, but this is truth. I allow My beloved children to be tempted but I give all graces and means of support to assist without impacting the soul's free will. At times, during a battle, souls receive blows from the enemy. No matter how well prepared one is, souls cannot fully anticipate the tactics of the enemy for, evil is very deceiving, especially to holy unsuspecting souls."
Jesus, I thought that holy souls are wiser to the wiles of the enemy of souls.
"Yes, My child over time, with testing and experience in battle, holy souls become more discerning, this is true. At time, I allow a veil to cloud a soul, in order for them to grow more in holiness. It takes experience through trials, testing and crosses, My child. There is a saying in the world that there is no better way to learn than through the school of hard knocks. You are familiar with this, My daughter?"
Yes, Jesus. I have heard this from my father or my grandfather. Or words to this effect.
"My child, this is wisdom and it is true in life and it is also true to an extent in the spiritual life. Souls who are close to Me do not go looking for difficult times or experiences and they are not living bad decisions and consequences, per se. So, while it is not exactly the same in the spiritual life as in the physical there is a strong correlation, for I created the world and all that lives in the world. I created the spiritual realm and the physical realm. My truth is in all that has been created."
Yes, Jesus. That makes sense.
"Allow the times that are difficult and the times your soul experiences dryness to be lessons of love for you. Draw even closer to Me when you do not sense I am near. Ask for Me and I will come to you right away. I am always with you, My little lamb, but at times I allow you to feel as though I am distant. You must always believe that I am near you no matter how you feel. Be at peace. All will be well. You are to trust Me in this, for it is trust that is imperative for My children to have. Trust in Jesus, My Children of Light, no matter the circumstances, no matter how dark or grey things may appear. This is most important, My little children. Always trust in Me, your Jesus."
Thank You, Lord for Your words of life and Your lessons of love. You are so good to me, Lord. I love You.
"My little one, I want to also remind you to avail yourselves of the heavenly assistance I make available to all of My children. Invoke the prayers of the saints in Heaven especially those who have been assigned to you."
Yes, Jesus. I have not requested their prayers as much as I used to. How odd that we haven't been saying the Litany after the rosary. How could we have stopped this and not even paid any attention to the need for their prayers? Truly there has been a veil placed over me. Thank You for telling me this, Jesus. I am so lost without Your guidance. I really am a dumb sheep! But thankfully, I have You for My Shepherd. Thank You for leading me beside still waters, Jesus.
"You are welcome, My little lamb." (I sense Jesus smiling as He reminds me I'm not even a sheep, but a lamb, I am just a 'baby' sheep at that.)
I really need You, Lord and I rely upon You for everything, my livelihood, my physical, mental and spiritual sustenance, provisions for my family, and the safety of my children, grandchildren and of us. Lord, I depend on You for everything and I am at ease knowing that You are God, the Creator of the world. You can do all things and You do them according to Your holy and perfect Will. May Your Will be done each and every day in my life. I choose You, Jesus. You have the first place in my life, my God and my All.
"My daughter, remember to keep your eyes on Me at all times. You will draw strength for the journey through prayer and reception of Me in the Eucharist. I am truly with you when I come to You in the Blessed Sacrament of the Altar."
Thank You, Jesus! This is the world's greatest gift and You died to be with us in the Eucharist. Thank You, Lord. Please be with (name withheld) while he is away from us. Bless his time away. Refresh him in his vocation and renew his spirit.
"My daughter and My son, I ask you to draw closer to My holy priest son and when he returns be of friendly support to him. Encourage him. Yours is a ministry of encouragement to My holy priest sons and this is your training ground. You have a heart for My priests and this charism has been given to you from on high. Be more aware of this and think and pray about what it is I am asking of you. You must live this charism for it to be more deeply rooted in you. This period of waiting and watching is also a time of action as you prepare for the mission ahead of you. Begin to pray and discuss this with one another. Seek My Will for you each day and you will find it."
Yes, Jesus. Thank You, Jesus.
"This is true for children as well, for the care of lost children in need is also your work. Reflect on this. Pray about this. Ask My Most Holy Mother Mary to guide you. This is your assignment so to speak."
Alright, Jesus. We will do this. I love You, Jesus, my Lord and my God. Praise and thank You for all that is good in the world. Thank You for our spiritual brothers and sisters in Heaven, for the holy angels, and for the beautiful family and friends with whom you have blessed us. Please be with us this week. Walk closely with us, Lord. Give us graces for repentance and conversion. Transform our hearts and minds into a holy people who love and serve You, Lord.
"My child, I love you and My son, (name withheld). Go now in My peace. I bless you in the name of My Father, in My name and in the name of My Holy Spirit. Be love, mercy and joy to others. Bring My light to all you meet, for there is much darkness in the world. Go now and be My little apostles of love and mercy. All will be well."
Thank You, Lord. Amen. Alleluia!!