Thursday, February 2, 2023
February 2, Candlemas
The Message of February 2, 2019 Is Groundbreaking for the Whole World and Therefore Very Important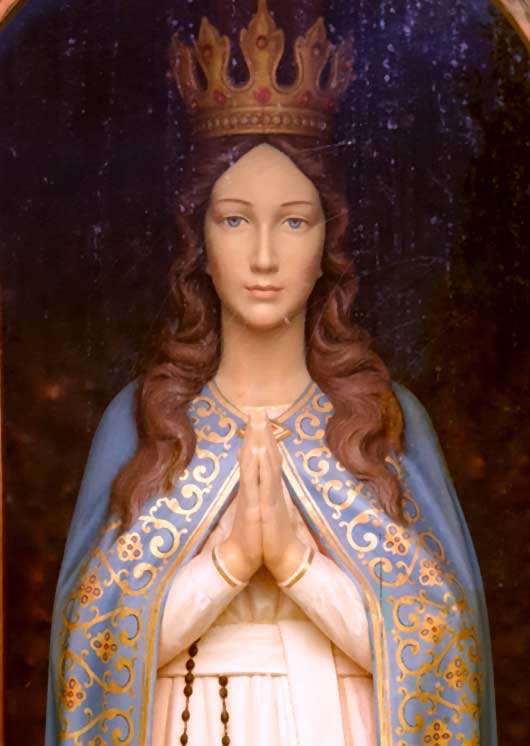 The little flock also asks for prayer for Lord Jacob, who is seriously ill and has been discharged from the hospital and needs special reconstructive care. Supportive prayer always heals best. In this context, I would like to refer to the short but very effective healing rosary to St. Raphael, which has already helped me a lot myself. I will publish it afterwards among the rosaries. To all a blessed feast of Candlemas!
February 2, 2019, Candlemas and Cenacle. Our Lady speaks into the computer through Her willing obedient and humble instrument and daughter Anne at 1:45 pm and 5:30 pm.
In the name of the Father, the Son and the Holy Spirit. Amen.
My beloved Marian children, I speak today and at this moment, through My willing obedient and humble instrument and daughter Anne, who is completely in the will of the Heavenly Father and repeats the words that come from Me.
My beloved children, how happy I am to speak to you today. You are still in the Christmas season. Only after today will you remove the Christmas decorations.
Most believers think that the end of the Christmas season is already January 6, the day of Epiphany. But you, My beloved faithful Marian children, know that this beautiful time continues until today. I rejoice with you that every day you sang lullabies to the infant Jesus at the manger, and He was pleased.
In addition, today still coincides with this 2nd of February, the day of the Cenacle. You waited for a total of 4 ½ hours, because the consecration of the candles preceded it. My beloved priest son sacrificed this long time for heaven. At his advanced age of 92, he has given joy to Heaven. He does not give up serving Heaven daily in a Holy Sacrifice Mass in the Tridentine Rite.
He tells us all that the altar of sacrifice has become his favorite place. It is where he can grant Heaven the greatest wish. He always says, that is where I am at home. He worships daily for an additional hour before the Blessed Sacrament, where the Savior is present with divinity and humanity. It is something quite wonderful to be so intimately united with the Savior, he says.
My beloved ones, if only there were many priests who also think like this. The example is lacking in today's people. They are looking for the happiness of life and cannot find it because there is no one to model the true faith for them.
My beloved children, surely it is so important today to have role models, because as you know, apostasy is increasing. People are looking for help and not finding it.
That is why it is also possible today to persuade people that they need a multicultural society. People want to be persuaded to unite with the other cultures. Those who behave differently are seen as foreigners hostile in their own country.
Then, My beloved children, how will one learn to love one's own country and culture? We must love our own country and be allowed to represent this to others without discriminating against the other.
Every culture has something of its own and good, but he wants to and should cultivate it in his own country.
Of course, there are also people who are threatened in their country and seek help. These people must not and cannot be rejected, not even because of the color of their skin. They are in need of help. But this help should best be provided in their own country.
What about religion, My beloved children and Marian children? Are you still witnessing your own faith today? It will not be easy for you to publicly stand by your Catholic faith. You will be deprived of honor. Will you still want to testify to the faith then? Can you bear the taunts and slurs? Or will you strike back with the same weapon?
My children, love is the greatest and not hatred. True faith is a faith of love.
Look at this day today, the Feast of the Candlemas. It is said to embody the light. Our Lady brought the infant Jesus to the temple. In doing so, she brought the light of the world to everyone.
Even today, in this dark time, people long for the light. Jesus says, "I am the way, the truth, and the life." Why do so few people believe in the true Catholic faith in the Trinity? They have no foundation and do not believe in the Bible.
You, My beloved ones, have been given the light as a flaming candle in the Holy Sacrifice Mass. It is to make it clear that you should carry this light into the world. You have taken on an obligation with it. Be aware that many are asking for this light.
You will receive a radiance that will grip your hearts. You will not notice it yourselves. But it will be like this.
My beloved Marian children, I want to send you out into the dark world to make it brighter again. You are not alone. I, your dearest Mother, will guide you and be with you when the way seems too arduous. Do not give up right away, even if it goes through a lot of undergrowth. Yet this path will be salutary for you if you have the firm will to spread the true faith of love.
The Christmas season is now over. However, you can continue to adore the dear Jesus and he will want to hear your songs. It loves you and looks at you asking you not to give up.
It is a long and arduous road for you. But it is not hopeless. Even a small smile or a kind word for the other person can work wonders.
You, My beloved Marian children, can influence the destiny of the Church. Bravely you should go forward on your way. You should become hopeful contenders and can make peace among yourselves if you strive for inner peace.
You see a lot of discord in the world and think that you cannot contribute to it because it is so and the other person does not want to listen to you anyway. Make an effort to have a conversation with the other person, even if it is in your family. Do not always say, "It is no use anyway, because no one wants to listen to me." Take a more positive attitude.
The loving Father is looking at you and your will to want to change the situation.
Rely on your loving Father in heaven. He looks at your worries and sees your needs. He wants to stand by you and warm your hearts as a loving Father. You often do not feel it when He speaks to your hearts. Sometimes you are not receptive. There are situations when you do not recognize His love.
Call your guardian angels often, because they also want to give you the knowledge that comes from the Holy Spirit. In the most difficult situations, sometimes you do not know how to act. There are still miracles that you did not expect and you should trust in that, My beloved ones.
The Heavenly Father can work miracles. You must only not lose heart when sorrows press upon you.
Above all things, strive for holiness. Perceive everything that inspires you to goodness and do not concern yourselves with evil, for it can keep you from striving for holiness. In fact, it can do you great harm.
Meet in good communities that lead you to good. Worldly pleasures certainly do not lead to a holy life. And this is what you are called to do. Often you do not even know where your path should lead. You do not set a goal for yourselves. Then come to My safe haven. There you are safe. I want to protect you and keep you from evil. I will always be there for you. Call Me when things get difficult and do not despair right away when things do not go according to your wishes.
Heavenly Father often has other wishes that do not coincide with yours. There are often situations in which you realize that Heavenly Father has special demands on you. You do not immediately realize that it is good for you and you rebel. A confusion arises in your souls and you do not know whether it is good to follow these demands. You often have to weigh what is the right thing to do and not act right away.
My beloved children, I am the bride of the Holy Spirit who wants to give you the true knowledge. I can give you additional angels to assist you, for I have millions of angels waiting for your calls.
I know that these times of complete upheaval in the church, politics and environment are difficult to understand. You cannot interpret them. Surrender your whole will to the Heavenly Father. He will take care of you, and He will guide and lead you in the right directions.
Do not develop any special fears, My beloved children, because the Heavenly Father always takes care of you. Do not lose your inner peace, for this is of special importance for you. Fears can prevent you from losing inner peace. It is very important for all of you, especially for you, My beloved youth, whom I always want to address.
Believe and trust with all your senses. The evil one is cunning and in particular situations can try to dissuade you from the truth. It is done quickly, often without you being able to detect it. You even think that one means well with you. Therefore, it is of great importance to invoke the Holy Spirit and unite in prayer.
My beloved children, you know that there are many people who rely on themselves and take the scepter into their own hands as they see fit. This can often have fatal consequences. Above all, one should guard against one's own assumption of power, for it makes an impression on people and fuels selfishness.
Every person wants to be considered something, and it is not easy to maintain a certain humility. If you can put yourself aside, it is of great advantage, because you do not forgive yourself anything. One can lose only when one's own power is in the foreground.
My beloved Marian children, go to the school of humility and enjoy the other. He also has his good sides and you cannot find only bad things about him. It is possible to come to an agreement even without quarreling right away. It is also possible in a calm tone. You have to educate yourself to argue calmly and stay calm and composed. Self-education contributes to this.
So, My beloved Marian children, now you have gone back to your Heavenly Mother's school and you will be advised for the best.
Your dearest Heavenly Mother, the Queen of Victory and Queen of Roses of Heroldsbach in the Trinity, the Father, the Son and the Holy Spirit bless you. Amen.
You are loved from eternity. Each of you is a valuable human being in your own individual way. Be aware, all of you, of your worthiness.